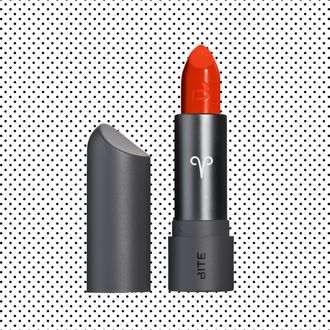 The Cut's Madame Clairevoyant said this is the week that Aries will feel "right again" and have "free reign to the best parts of yourself." And what's better or more right than adding another lipstick to your collection? Thanks to Bite Beauty, the Aries horoscope is coming into fruition. To celebrate the start of Aries season (March 20), Bite Beauty created an in-your-face lipstick for the daring sign that isn't afraid to try new things.
Since Aries is ruled by Mars and is a fire sign, Bite decided to create a limited-edition fiery orange-red. The lipstick is the third addition to Bite's Astrology line, and it's more vibrant than the previous burnt orange and berry hues. The formula is the same as the brand's classic Amuse Bouche lipstick, and is made with vibrant pure pigments, fresh citrus, botanical oils, and resveratrol, which is an antioxidant with anti-aging benefits that's found in red wine.
Once applied, the hydrating lipstick has a semi-matte finish and a creamy texture — it feels more like a lightweight lip balm than a lipstick. There's also an Aries ram symbol on the side of the collector's tube. Bite recommends wearing it to celebrate completing a marathon or receiving a promotion, but it would also look great at the office or happy hour while you imbibe those resveratrol benefits.
The lipstick comes out March 21 at Sephora so have your wallet ready in the morning, because the previous Aquarius and Pisces shades sold out in two days. This launch also means there're only two more months until Bite reveals its Gemini limited-edition lipstick bullet.