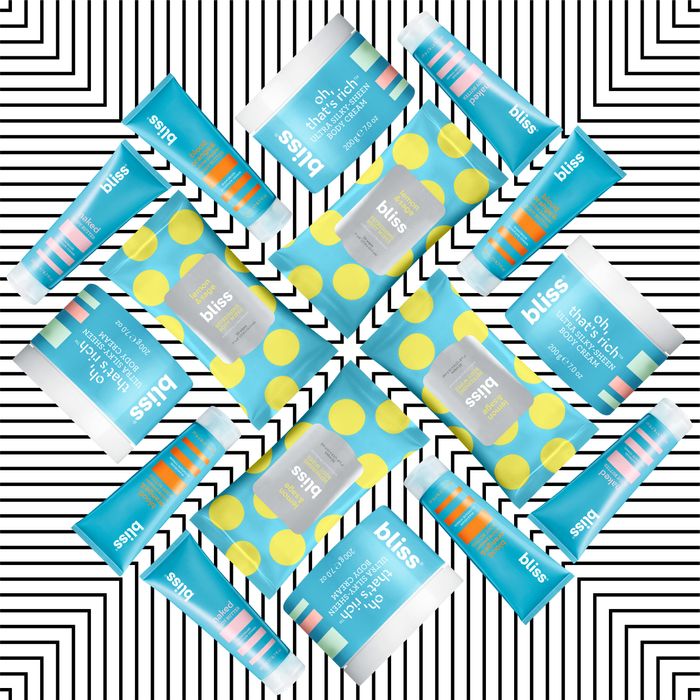 Early aughts-loved spa brand Bliss celebrated yesterday's International Day of Happiness with a makeover — the brand completely overhauled its look, prices, and even added some new products to the mix. The drastic change came after Bliss noticed its customers couldn't afford its mid-range prices and thought the products were hard to find. "We did some self-reflection and took a deep look at our products — what we could do better, and how to stay relevant and accessible," said Bliss CEO Meri Baregamian.
The new products look strikingly minimalist and millennial-friendly, but with the same turquoise and pink color scheme. Some of the new packaging and products look like they'd belong on the same shelf as Glossier's cult-favorite Milky Jelly Cleanser. The new Bliss Makeup Melt Jelly Cleanser has a similar simplistic look and is meant to be a gentle makeup remover that breaks up the most stubborn mascara and clears it away without leaving an oily haze over your eyes and face. The brand also introduced a marshmallow mask that uses citrus oils to brighten skin and fade discoloration. Bliss also teased more than 100 new formulas and products that they'll keep adding to and will release soon.
Overnight, the brand dropped its prices to make all products increasingly more affordable. Now, all of Bliss's products, which are available at Target and Ulta Beauty, cost less than $30.
Here are some of the new products and relaunched favorites:
If you buy something through our links, New York may earn an affiliate commission.