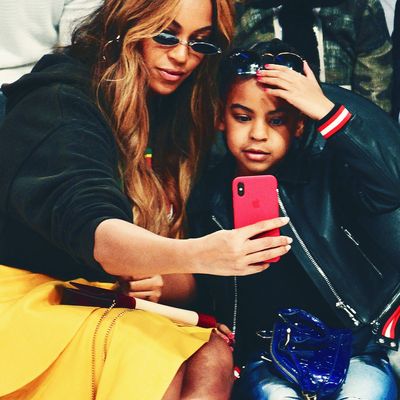 Blue Ivy Carter.
Photo: Allen Berezovsky/Getty Images
Wearing an extravagant gold gown and wig, Blue Ivy bid tens of thousands of dollars on art at her grandmother's gala last night.
Tina Knowles Lawson and Richard Lawson have hosted the Wearable Art Gala in Los Angeles for the past two years, which Blue and Beyoncé showed up to in matching gold ensembles. At the glitzy bash, Bey accepted the 2018 Waco Theater Humanitarian Award and received a personal "I love you" video message from Michelle Obama.
But the night, as always, was stolen by little Blue. When it came time for the live auction, Blue raised her paddle to make a $17,000 — and then a $19,000 — bid on a painting of a young Sidney Poitier. Unfortunately, she didn't make the winning bid, as Vanity Fair reports that Jay-Z jokingly grabbed her paddle from her before she could place a higher bid. Ugh, dads.
But the 6-year-old didn't give up. Right after her loss, she made the winning $10,000 bid for a piece of art composed of deconstructed law and medical books. The Cut congratulates the young art connoisseur.