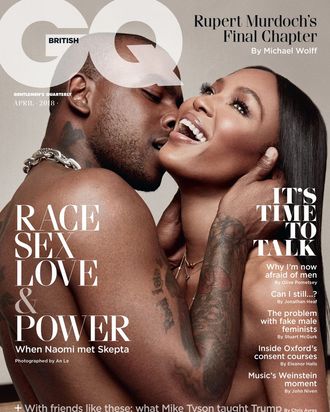 The April cover of British GQ reads as follows: "Race, Sex, Love & Power. When Naomi [Campbell] met Skepta." Say no more!
On Wednesday, the supermodel teased a photograph on Instagram from her forthcoming, nearly nude spread with the English grime rapper. In it, Skepta, 35, lounges shirtless, exposing his numerous tattoos. Campbell, 47, wears nothing but a pair of white MAINS boxer briefs, which happened to be designed by Skepta himself.
It's clear who holds the power in this scenario: Skepta, wearing a chain-link choker necklace, stares longingly and reverently at Campbell. Meanwhile, Campbell looks back at us with a drop-dead smirk.
But just as you were about to butter your toast with the knife-cutting chemistry in this photo, Campbell took it down.
Thankfully, British GQ revealed its official cover, shot by Al Le, on Thursday morning — and it's just as steamy. Skepta tenderly kisses Campbell's neck. Campbell reacts with a genuinely-happy looking smile, as one does when one is genuinely happy. Naturally, relationship rumors are swirling.
GQ describes its cover stars as "close friends," revealing that they met back in 2016 at the British Fashion Awards, where they were both presenters. British Vogue editor-in-chief Edward Enninful, who is a longtime friend and collaborator of Campbell's, reportedly introduced them.
According to GQ, Campbell and Skepta "took Polaroids with Kate Moss before going on to the [B.F.A] after-party together." The article continues: "That night Skepta lost his phone, although Campbell still has the photo. A series of Instagram images with love heart emojis chronicle the friendship that blossomed, which, this year, took a professional turn. For the launch of Skepta's new underwear line as part of his MAINS collection, he asked Campbell to collaborate."
Ah, now it all makes sense. You can see the full spread when the magazine hits newsstands Thursday, March 8.