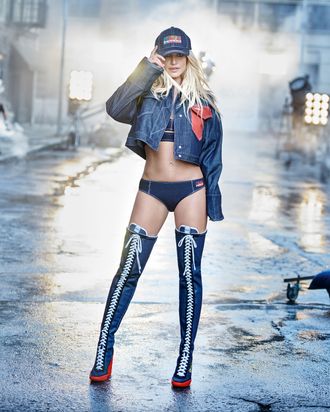 Britney Spears.
Photo: Peter Lindbergh
It's been more than 15 years since Britney Spears and Justin Timberlake showed up to the American Music Awards wearing matching Canadian tuxedos, but designers have yet to get over that pivotal moment in early-2000s fashion history.
For their second Memento collection, Kenzo creative directors Carol Lim and Humberto Leon were inspired by brand founder Kenzo Takada's 1986 Paris runway debut of Kenzo Jeans. They figured a true icon should wear clothes covered in icons of the brand's heritage like tigers and The Great Wave Off Kanagawa — and who is a true icon, if not Britney?
In the campaign shot by Peter Lindbergh (a '90s supermodel favorite), Spears looks like she walked off the set of an early-2000s music video wearing a denim trucker hat, a denim two-piece bathing suit, and thigh-high denim lace-up boots. She also shows off her belly ring and back tat with a green crop top.
In a rare interview with Vogue about the campaign, Spears says the experience was a "bit weird" at first. "We were out there [in the street] and I had really promiscuous clothes on, which felt odd, but, of course, on film it turned out to be really cool," she said.
Spears also added there aren't any more denim tuxedos in her future. "I think when I was younger I took so many risks and really went for it," she said of her style. "There was no planning what I wore, and it was like, okay, I am just going to put on the most outrageous thing. I think as a mother you hold back from that out of fear of embarrassing your kids and out of respect for them."
At home, Spears says she's "in a nightgown most of the time," but we know that's not true. Her at-home runway shows, which she often films and puts on Instagram, garner millions of views — and are further proof that we need more of Spears in fashion right now.