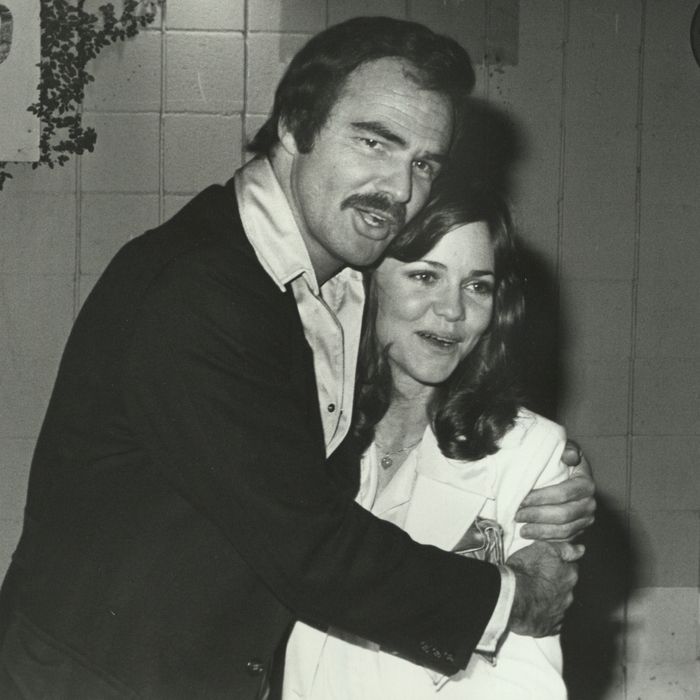 Burt Reynolds and Sally Field.
Photo: Time & Life Pictures/The LIFE Picture Collection/Getty Images
Today in "Uuuhhhh?", actor and sentient mustache Burt Reynolds, 82, told Hoda Kotb that his Smokey and the Bandit co-star Sally Field is the love of his life, and that he fell for her when she was only 7.
During his interview on the Today show on Wednesday, Kotb asked Reynolds who the love of his life has been, Reynolds answered, "You're naughty, you really are. I'm dead in the water no matter what I say. Well, she was seven when I fell in love with her. She stayed seven for about 11 years. I would say Sally."
"Sally Field?" Kotb asked.
"No, Sally Wolfergosh." Reynolds said sarcastically. "Yes, Sally Field."
Reynolds comment was definitely a joke (he and Field met on the set of Smokey and the Bandit in 1977, when both of them were adults and Sally Field was not 7) but a bizarre, uncomfortable one that, uh, didn't quite land.
He went on to conclude the interview by congratulating Kotb on "not having your lips larger."
Trolling aside, today's interview was not the first time Reynolds has referred to Field as his great love. The pair dated for five years in the late '70s, and in 2016, Reynolds told the Daily Mail, "I did four movies with Sally and spent five years with her. She was the love of my life and I screwed the relationship up. That sense of loss never goes away."
Watch the full interview below.