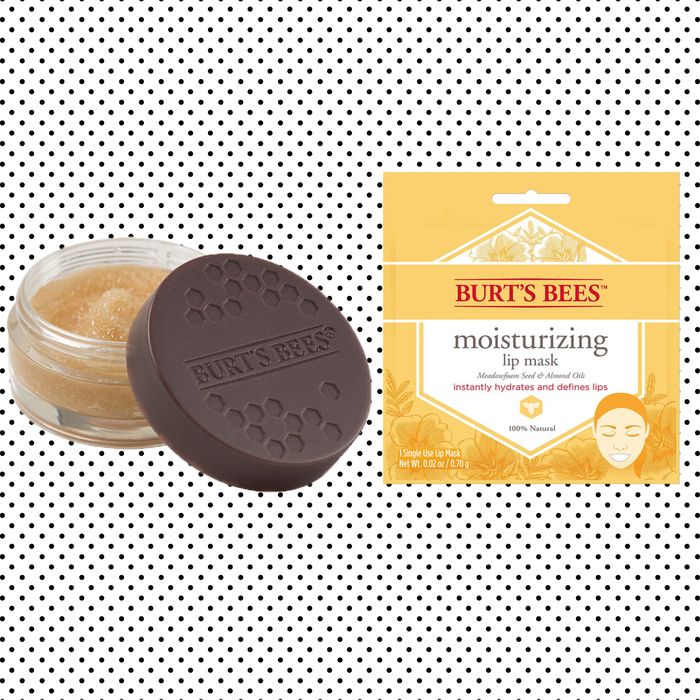 Everyone's obsessed with skin care right now but Burt's Bees doesn't want it to stop at your skin. The brand developed a line of products meant to exfoliate, moisturize and smooth your lips. The Lip Innovations line includes a lip scrub, overnight treatment, and mask for healthy lips that don't need to be slathered with balm every 20 minutes.
While all three Lip Innovations products can be used individually, they definitely work best when used together as a lip-care regime. The Conditioning Lip Scrub would be the first step, and it's made with fine honey crystals to gently slough off dry skin. The scrub is also infused with conditioning beeswax, castor oil, and cocoa butter. When used two or three times a week, the scrub helps polish lips so they'll absorb lip treatments better and so they're primed to stand up to the most matte and drying liquid lipsticks.
After using the scrub, you can apply the single-use Moisturizing Lip Mask for five quick minutes. The mask has the same tingly feeling of Burt's Bees lip balm and a similar flavor as the classic beeswax balm. Once the meadowfoam seed, sunflower seed, and almond oils sink beneath the surface, you're meant to peel off the mask then apply the Overnight Intensive Lip Treatment for crack-free lips the next morning. The overnight treatment uses a waxy ceramide formula and peppermint and jojoba oils to coat lips and seal in moisture. Even though the label says it's to use overnight, the brand says that those with extra dry lips can use it during the day as a more potent and protecting lip balm.
The three Lip Innovations products are available now at Ulta Beauty.
If you buy something through our links, New York may earn an affiliate commission.