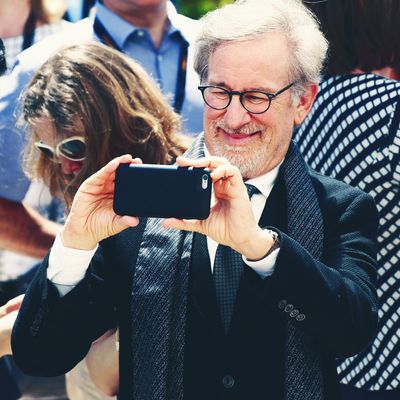 Steven Spielberg at Cannes.
Photo: Antonio de Moraes Barros Filho/FilmMagic
What is a red-carpet moment without celebrity selfies?
At this point, the photographic genre has almost rendered moot the traditional step-and-repeat. But the Cannes Film Festival, which takes place every year in May and attracts selfie-loving celebrities like Kendall Jenner and Bella Hadid, is hellbent on ruining everyone's fun.
On Friday, Cannes chief Thierry Frémaux announced that the festival will be officially banning selfies on the red carpet this year. "At the top of the red carpet the triviality and slowdown of flow provoked by the disorder of selfies ruins the quality of the red carpet," he explained. "And thus the festival entirely."
In other words, selfies are being framed as a logistical roadblock at the festival, but we have a hunch that the Frenchmen in charge have philosophical qualms with the act as well.
This is not the first time Cannes has decided to punish its attendees. In 2015, the festival tried to ban ballet flats on the red carpet, causing immediate backlash from celebrities and women around the globe.
Much like the taboo against smoking in the bathroom at the Met Gala, it's safe to say that a selfie ban won't stop most celebrities. (Looking at you, Susan Sarandon.) In fact, it just made the act so much more fun.