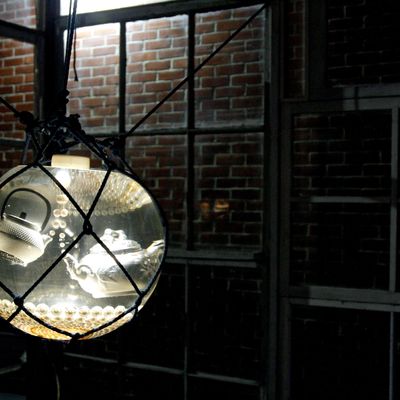 Tea Ceremony
Photo: Simon Courchel for The Invisible Dog
Emma Sulkowicz is best known for carrying a mattress around Columbia University to help start the revolution against campus sexual assault in 2014. Mattress Performance (Carry That Weight) was the artist's senior thesis performance, in which Sulkowicz carried a 50-pound mattress everywhere on campus, promising to continue to to so while an alleged rapist remained at the school. This week, the New York–based Sulkowicz unveiled the debut installation The Floating World at the Invisible Dog Art Center in Brooklyn. The piece explores themes of trauma, healing, identity, and community, and features five floating silicone orbs, connected by ropes and filled with floating artifacts. Each orb is an homage to Sulkowicz's relationship with a close friend or family member. The installation takes its name from the Japanese term Ukiyo, which describes the pleasure-seeking urban lifestyle of the Edo period in Japan.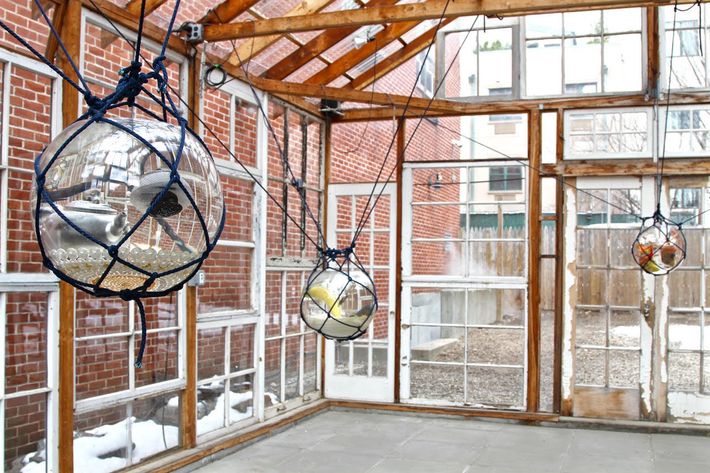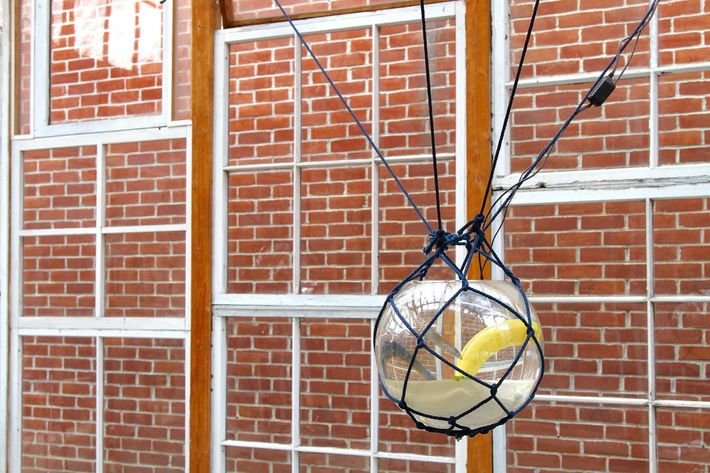 One orb contains a silicone banana and a video of Sulkowicz excitedly offering a step-by-step tutorial on how to make banana art, a humorous nod to her sister's ability to watch hours of YouTube videos and quote them perfectly, but it also carries a deeper meaning. "'Banana' is a term for an Americanized Asian person because they're 'white on the inside' and 'yellow on the outside," Sulkowicz said. "My sister and I have always had to kind of deal with that because we are visibly Asian, yet we are mixed race and grew up in New York."
Another orb holds a sculpture of floating flamin' hot Cheetos, chopsticks, and bubble tea to represent a close friend. "We met when we were 12, she was my first best friend," Sulkowicz said. "There's something about growing up in New York City on snack foods like that, but being taught to eat them as Japanese-Chinese girls with chopsticks so that your fingers don't get messy."
Sulkowicz used two types of rope to suspend the orbs: Shibari, from the art of traditional Japanese rope bondage, and Ukidama, used on green glass floats that suspend fishnets in water. "What I like about using a combination of Shibari, which binds bodies, and Ukidama, which keeps a net afloat, is the idea that these people do lift me up in the same way that a Ukidama lifts up a net."
"The Floating World" will be on view at the Invisible Dog Art Center, in Brooklyn, until April 22. Scroll to see more images of the installation at night.