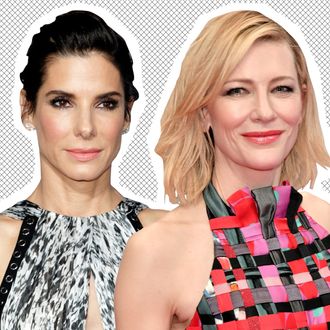 Sandra Bullock; Cate Blanchett.
Photo: Getty Images
In the midst of promoting Giorgio Armani's perfume, Sì Passione, Cate Blanchett paused to share some important information about how she and Ocean's Eight co-star Sandra Bullock get their enviable, glowy skin.
"Sandy Bullock and I saw this facialist in New York, Georgia Louise, and she gives what we call the penis facial and it's something — I don't know what it is, or whether it's just 'cause it smells a bit like sperm — there's some enzyme in it so Sandy refers to it as the penis facial," she told Vogue Australia.
The actual name of the facial is the Hollywood EGF (Epidermal Growth Factor) Facial, which the Upper East Side facialist created specifically for Bullock while she was filming in the city last year. The sperm smell that Blanchett described wasn't too far off though. The serum used in the facial is actually derived from cells taken from the freshly removed foreskin of newborn babies in Korea. The stem cells are said to help build collagen and elastin, which make skin appear younger and glowing. Before the foreskin serum is applied, Louise preps skin with peels, a micro-needling wand, and an electrifying mask. Relaxing!
"I have text threads, which would blow your mind, from celebs asking for the 'penis treatment' all the time now," Louise said. Depending on whom you ask, this might not be the weirdest facial Louise has done. She recalled, "I remember the time when I used placenta from a pig on a client that was vegan and that didn't end so well."
You can be the judge on whether these facials actually work or not. That is, if you're lucky enough to get on Louise's two-year waiting list. The facial will cost you $650, but the look on your friends' faces when you tell them about your nutty facial will be priceless.