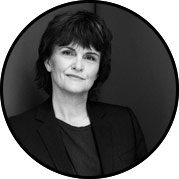 Demna Gvasalia's fall 2018 show for Balenciaga was revolutionary for fashion. To my knowledge, it's the first time a major luxury brand, and one with a legacy of architectural elegance to boot, has used 3-D printing and molding technology to produce tailored coats and suit jackets. With only two seams and no darts, classical fabrics — wools, houndstooth checks — were bonded onto light foam for minimal structure. This was something that the '60s American futurist Rudi Gernreich, creator of the topless bathing suit and the no-bra bra, predicted would happen: garments that involve a minimum of traditional sewing techniques.
Essentially, Gvasalia and his team did 3-D body scans and then altered the shapes in digital files, printing the results. "Then we made molds," he explained backstage to a cluster of journalists. He added, "For two years, I've felt like I was exploring. What could the legacy of Cristóbal [Balenciaga] be today? One of the main codes of Balenciaga is volume, and the other is innovation in tailoring. He was a master at that." In Gvasalia's first Balenciaga collection for fall 2016, after he had taken over from Alexander Wang, he showed suits and outerwear that cleverly evoked the tailored silhouettes of both Cristóbal's greatest hits and the exaggerated poses of '50s-era models. In follow-up shows he explored other house themes, like volume and floral prints.
Yet Gvasalia seemed frustrated or constrained. Then last season he pushed more of the kind of fashion that his own brand, Vetements, is known for, like hoodies and riffs on shirting. As he explained the hybridized Balenciaga: "I wanted it to be more Demna, less Cristóbal this time."
Now, thanks to technology, Gvasalia has found a more solid footing. This was a remarkable collection. Not only did the tailored styles (for men as well as women) look amazingly smooth and flat — rather like a digital image corrected for flaws by CGI — but they also gave you a real idea of what clothing generally could look like in the future. For that reason, the models, with their sleek turtlenecks and post-Matrix eyewear, looked alien. The slightly exaggerated shapes of coats — trim waist, built-out hips — only added to that impression.
Gvasalia's other move was to contrast the traditional wools with bright, saturated colors — all based, he said, on '90s snowboarding colors. That's why the set consisted of a giant mound of fake snow covered with graffiti. To satisfy the "Demna" side of his sensibility, Gvasalia created outerwear composed of layers of garments — parkas layered upon hoodies and so on. He started the build-up modestly (around look number 40), and 30 styles later, the volumes were enormous. Yet, he discovered during the exercise, "the shapes were oddly reminiscent of what's in the Balenciaga archive." Other designers have done similar things with layers, though not to this extreme and certainly not as such a surprisingly good complement to the brand's heritage. I don't know where Gvasalia will go with 3-D printing, but it's hard to see him turning back from it.
Clare Waight Keller is also redefining Givenchy — and quickly. She highlighted tailoring in her first ready-to-wear show, last October, and then gave it exceptional polish in her haute couture show in January. This is the part of being a journalist in Paris that I probably enjoy the most — when you see a talented designer being allowed to exercise all her skills, and you're forced to reckon with that power, as well as your own assumptions about that individual.
What was striking about Waight Keller's show on Sunday was how swiftly she corrected one or two problems in her first outing. She presented the fall line in a cozier space, and she brought the styling and silhouette of the men's clothes closer to that of the women's. Then she introduced a somewhat grittier Givenchy — inspired, she said, by '80s movies like The Hunger and B Movie: Lust and Sound in West Berlin, a documentary about subcultures before the wall came down.
Yet sleazy Berlin was barely even ambient in the show, unless you count the somewhat oily looking black leather sashes on the mottled brown (fake) fur coats or the booties that could be unzipped and allowed to flap, or maybe an '80s-style black leather sleeveless jacket with banded edges. Waight Keller has no intention of serving up ravers or, god forbid, Helmut Newton. Her interest is in the actual clothes — in the cool, linear line of a split-front black skirt worn with a sleeveless black leather T-shirt, the graphic sharpness of a micro-check wool coat, the judicious use of fringe (silk or beaded) to suggest movement in otherwise simple evening looks.
Because this collection is more urban in mood, it seems to link with the style of Waight Keller's predecessor, Riccardo Tisci. Yet don't leap to any conclusions — Waight Keller is creating her own distinct language at Givenchy. One of the most striking looks in the collection was a black wool coat with several rows of white buttons and a close collar. It was aristocratic Givenchy through and through, with the buttons giving it a touch of flash. That's territory still waiting to be explored, and Waight Keller, biding her time, knows it.
Thom Browne also made me think anew about his talent. Browne's show was pure joy — over-the-top, imaginative in its treatment of the female form, and beautifully as well as wittily executed. His idea was to imagine an artist — namely, Élisabeth Vigée Le Brun (1755-1842) — painting women in 21st century fashion, or rather in Browne's masculine hues and fabrics. Gray flannel was the basis for most of the 32 individual looks, and often it was flannel artfully combined with silk moire, fur, and tulle. Tailored pieces accompanied gowns that closely replicated a woman's contours — with the help of obvious hip padding — or corsetry. For one flannel-on-tulle dress the cutout shapes were men's tailoring patterns. And a number of jackets were shrunken, Browne-style, and others were patterned to be worn backwards.
Browne is hardly the first designer to rampage through a lady's toilette — Mugler comes to mind. But his evolution, his spirit of investigation is what inspires and awes. He also gets the great human comedy that is fashion. His models, on towering Oxford platforms and with gold lacquered pin-curls, came out posing to dance hits — Madonna's "Vogue" and George Kranz's "Din Daa Daa," among others — and ended within sight of Staten Island, as the theme song from Working Girl rang out.