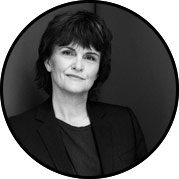 Rei Kawakubo would probably be the last designer you'd imagine needing a style manifesto. After all, she invented a way of cutting and wearing clothes, with her Comme des Garçons collections in the '70s and '80s, and last year the Met recognized her genius with a retrospective.
So it was a little surprising yesterday when she invoked Susan Sontag's 1964 essay, "Notes on Camp," saying in a long statement (long for the terse Kawakubo, anyway), that she could "really relate to this vision." She went on to say, "I think camp can express something deeper, and give birth to progress." Sontag, of course, later lamented not only the loss of seriousness as a standard, but also the rise of a culture "whose most intelligible, persuasive values are drawn from the entertainment industries." Fashion shows over the past 20 or 30 years surely qualify as entertainment, however thought-provoking.
Frankly, I'm not sure why Kawakubo needed to offer "Notes on Camp" as a framework for the 16 creations in her show. On their own, it was pretty clear they represented a kind of private, childlike thrill in dressing up and being a character. And as if to reinforce that sense, the models stood on the runway at the end, held hands, and beamed smiles from their circus-bright outfits. Once again, Kawakubo used free-form methods of construction — assembling layers of fabrics like a giant stack of crepes, for example, or embedding what looked like a portion of a girlish party dress into one of the sculptural shapes. And just as she has done in the past, she used historical elements, like a fat pair of frilled pantaloons. That's certainly Camp.
For Kawakubo, Sontag's essay plainly holds meaning, but her wish that its content might "give birth to progress"— for the industry, to the development of a new sensibility? — is earnest. If the reference expresses anything, it is Kawakubo's own frustrations as a creative person in 2018.
Following the Loewe show, the Paris collections have shifted to more direct elegance. "I wanted the girls to look as if they could keep walking straight out the door," said Joseph Altuzarra after his show on Saturday, held at the Montparnasse brasserie La Coupole, where the tables had been removed, giving the models a clean sweep of the French Deco room.
This is Altuzarra's second season in Paris, and he said that business is already up as a result. The show also better highlighted his strengths, notably well-cut pinstriped suits and coats in gray and camel with rows of buttons as accents, silk dresses and separates in murky floral patterns, and a simple but gorgeous sleeveless dress and trench coat in deep purple suede. Overall, the clothes looked easy but polished. If there was a fault in this otherwise strong show it was the lack of killer coats. They've always been an Altuzarra hot item.
At Hermès, Nadège Vanhee-Cybulski may have finally found the perfect balance of classicism and fashion. I loved this collection — and it was even better up close in the Hermès showroom, though it helped that Vanhee-Cybulski and her team created more atmosphere for the show itself (Paris at sunset, with the aid of theatrical lighting and a walled garden in the center of St. German).
To nearly every classical style — the horse-blanket skirts, the blouses or dresses inspired by jockey silks, the quilted paddock jackets—Vanhee-Cybulski added a convinced dose of fashion. The opening coats, tops and dresses in black or blue-blue leather conveyed this beautifully. One slim coat had a discreet bit of pleating, or a dress was belted and so soft and lightweight it felt quietly seductive. (It would surely feel like that when worn.)
One of my favorite looks was a high-waist, A-line skirt in navy felted wool, worn with a cropped aviator jacket in blue-black sheepskin. Also strong were dark polo shirts with scroll embroidery near the yoke, slim wool dresses with an inset of tiny vertical rows of beading, and knockaround, blanket-style coats.
In the past, Vanhee-Cybulski's women's clothes have looked, well, fussy and stiff. They almost resisted a woman's shape. This time, though, she created 54 individual characters, and by adjusting her cut and proportions a bit, and working in key Hermès elements, she made a collection that begs a closer look.