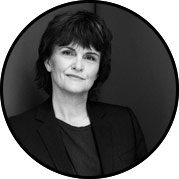 "I just thought there was something nice about the calmness of reading by a fire," Jonathan Anderson said, explaining why he distributed copies of classics— "Madame Bovary," "Wuthering Heights," "Heart of Darkness"— with cover sleeves by Steven Meisel at his Loewe show. There was even a glowing fireplace (by the Arts and Crafts designer E. W. Godwin), and a display of sickly looking flower sculptures by Tetsumi Kudo.
The mood at Loewe is nothing if not curated. Or as the press release put it: "The women's fall-winter 2018 collection inhabits a pensive space where the organic meets the industrial."
As it turned out, Anderson's remark, in its homey English sentiment, was closer to the spirit of the collection. The key piece, if you apply the rest of his backstage soliloquy — "How do you reduce and take away?— was a long, slim shirt. It appeared early in the show, and in three variations: in slate gray with matching full-cut cotton trousers; in a washed linen-cotton micro-houndstooth with an exaggerated black leather collar and a layered chiffon skirt; and in cream silk jacquard with a fluttery stock tie and a matching asymmetrical skirt.
A blouse and a skirt (or pants). Three weeks of international fashion shows and on Friday, with Emily and Gustave bouncing on our laps, it had come down to an ensemble that any small-town librarian could rally around.
Seriously, though, Anderson's instincts were right. There's a need at the moment to strike a clearer balance between fashion and clothing that is wearable, that gives an ordinary sense of ease. One reason is there's a lot of competitive noise emanating from luxury brands—here's our oversize parka, our sparkly sweater, our jacked-up sneaker, our take on feminism and identity. But in the end, says Anderson, "all you see is nothing." That may be why many brands are struggling to attract customers. At the same time, the political atmosphere is so alive, with #MeToo and the anti-gun movement, that it calls not for a commensurate fashion, as some critics have argued, but one that actually respects the seriousness of what's involved and remains in a way detached.
For me, that's why Loewe and Undercover, by Jun Takahashi, are the most satisfying collections so far in Paris. Loewe could be digested in three main ways. There were terrific coats — generously cut shearlings in bone or black, a hooded toggle style in a soft, fuzzy brown wool, and a black leather number with suede contrasts. There were the shirts. These also included a body-slimming style in black leather, but what all the shirts had in common was a detail that gave them oomph or was revealed only when the model walked by, like the micro-houndstooth shirt mentioned above. Down the middle of the back were three or four knots made from the soft fabric.
Finally, there's the tailoring. Anderson says he wants to beef up the tailoring at Loewe, which is generally known for dresses, cool knitwear and, of course, leather. Maybe the standout look in the show, next to those smart shirts, was a brown micro-check coat with a crisp saddle-brown leather collar. Slim-fitting, worn with plain strappy sandals, its details were nicely confined to a raglan sleeve, top-stitched welt pockets, and small banded cuff. A classic with a different cover: how uncomplicated?
Takahashi opened his show with Sadie Sink, an actress from "Stranger Things," and with the words "We Are Infinite" printed on rubber boots and garments throughout. Many of the clothes looked like the stuff kids wear in high school — one person on Twitter aptly said "a New Hampshire boarding school." And, indeed, Takahashi said afterward that this "youth forever" theme related to the 2012 film "The Perks of Being a Wallflower," which supplied a voice-over near the show's finale.
Yet Takahashi, who last season did an inventive show about the notion of doubleness, didn't milk the youthful vibe. He's too honest for that. It was as though he simply wanted to acknowledge what was special about being young, and in ways that were incredibly modest yet direct— fleece hoodies and track pants, ripped jeans and school blazers, a trench and a sweatshirt stiffened as if to evoke a favorite garment that a kid refuses to clean and so is rigid with grime, and some of the most adorable knit caps ever, including a few that looked knitted with hair, as if to suggest bed hair.
It's that reverence, coupled with a roster of straightforward fashion, that made Undercover such a dynamic show.
Junya Watanabe also had a solid, up-to-date show today. He, too, stuck with a familiar street look — strong on fantastic poncho-style coats, oversize blazers, and what might be called grunge sweaters, worn with brightly colored leggings or floral skinny pants, and yet another version of thick-soled sneakers. I adored his, though: chunky, black, sharp. The addition of white tube socks was a nice nerdy/jock touch.