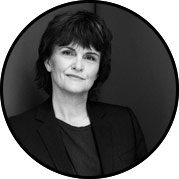 On a tour of the new Martin Margiela retrospective at the Palais Galliera, former director Olivier Saillard told me it would be a good idea if costume museums like the Galliera showed the work of rebels like Rei Kawakubo, Azzedine Alaïa, and Margiela every 20 years. "Just so young people can see what the clothes actually looked like," Saillard said. "Because, right now, all they know are images of clothes."
I'll have more to say tomorrow about the exhibit, but I was struck by the truth of Saillard's words. If you don't see the actual garments — the small shoulder line and darts of a white T-shirt dress from Margiela's very first show in 1988, the sublime construction of a raw linen jacket from the iconic 1997 Stockman show, the extremely subtle historical cast (especially from the Edwardians) to many of his pieces — it's difficult to fully appreciate what a true master Margiela was. He was a genius, yes; he destroyed many of our assumptions about how high-end fashion should look and be presented. But more than anything else, you realize while strolling this retrospective that he thought about clothes and how to make them like the greatest of couturiers.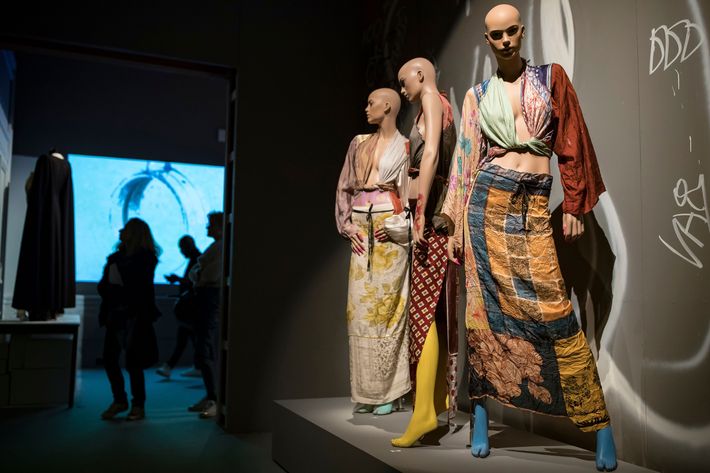 Saillard's comment points out a profound change, or divide, in the industry, one underscored by the news today that Riccardo Tisci, lately of Givenchy, will take over as creative director at Burberry, the very British raincoat maker founded in 1856. People were stunned, judging by the reaction on social media, and jokes about "goth trenches" at Burberry — Tisci loves a cross — were plentiful before the start of the first morning show, Chloé. I guess some editors thought Kim Jones, a Brit, would have been a better choice, while others foresaw an incongruously dark Burberry, since that's the mood that Tisci tended to bring to Givenchy.
Personally, I thought it was a logical choice. Chanel might not be a heritage brand like Burberry, but certainly no one would say that being German has prevented Karl Lagerfeld from designing the most cherished of French names. To me, though, the real reason that Tisci makes sense for a mega-brand like Burberry is that he's an image-maker. I don't put him in the same designer class as Lagerfeld, or Margiela or Alaïa — he's never destroyed one assumption I've had about fashion or beauty or femininity — but that's okay. Because Tisci is good at creating excitement and buzz and mild controversy. He's an image guy, and that links in well with Burberry, an early adopter of live-streaming and social media. And because the name is such an institution, known for its plaid and connections to British royals, it depends to an extent on designs that can be scaled to a big, hungry, Hello! magazine–reading audience. No, Tisci's your man.
Come September, with Tisci swinging from London and Hedi Slimane at Céline (why don't they just call it Slimane), Fashion Week is going to feel like Tarzan hour. But that's just it: Where are the female earth-shakers? This is probably a topic that deserves to be explored more fully than I can do here, but are women designers just lousy as image-makers? Or are they just appalled at the idea? And are they attracted more to designs that feel personal, that rely on craft and small gestures — and, as a result, cannot be easily scaled for a big, largely uncritical audience? Donatella Versace comes to mind as the closest thing to a female image-making designer in recent memory, but the younger generation has shown little interest in projecting at grand scale so far.
The quiet work of Natacha Ramsay-Levi at Chloé and Christophe Lemaire and his partner Sarah-Linh Tran at the label Lemaire is certainly very special. After seeing Lemaire's swishing skirts in monochromatic cream, mustard, and dark blue, with subtle hints of aprons and other layers, I kept thinking about them all day. What a great way to dress, I thought. (Not surprisingly, editors were saying that Lemaire's generous coats and cool shirting might appeal to Phoebe Philo fans, now that she's left Céline.) Lemaire and Tran have great taste, their fall clothes would give mere mortals an ease, and I love their considered details. One of my favorite looks was a cropped, dark brown leather jacket, cut with a bit of volume and with what looked like shirt pockets, worn over a dark blue shirt and matching trousers.
This was Ramsay-Levi's second collection for Chloé and she added more shapes, opening with long, lightly layered dresses with asymmetrical hems. Though her debut show was packed with fresh-looking styles, and revealed the range of her tastes — for travel, books, craft — the collection was skewed too young. She's changed that for fall. Among the best looks were creamy ribbed pullovers with a bit of feminine shape, satin shirts, and separates with appliqués that seemed a blend of American West and Russian folk patterns.
There's no doubt that Ramsay-Levi, who spent 15 years working for Nicolas Ghesquière (who was in the audience), knows how to create a distinctive, eye-catching style and silhouette. Those long dresses, as well as pegged pants and a muted, almost vintage palette, seem based on her personal style. For me, the question ahead is whether Ramsay-Levi can translate that idiosyncratic style, and even expand it, for a more diverse Chloé audience.