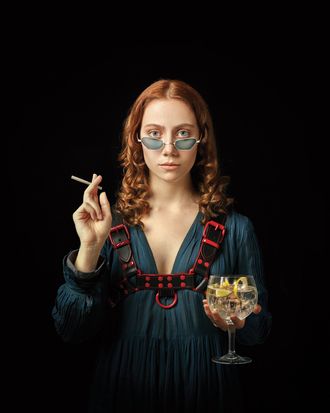 Photo: Courtesy of Etnia Barcelona
In the last few years, there's been a wave of cool, new sunglasses brands like Krewe, Ahlem, and Gentle Monster, just to name a few. The next label to know? Etnia Barcelona. While the Spanish company has been around for 15 years, it's still relatively unknown in the United States. That's changed now that the likes of Gigi Hadid, Jay-Z, Cate Blanchett, and Lupita Nyong'o are all fans of its shades.
Etnia Barcelona launched its latest ad campaign this week, and it's a riff on paintings straight out of Art History 101. There's Delacroix's Liberty Leading the People, if Liberty were a red-glasses-wearing woman surrounded by freedom fighters (armed with kitchen pans instead of muskets), while Velázquez's The Triumph of Bacchus is reimagined as a beach kegger. And, of course, there's its version of a Renaissance Jesus portrait, with their "Jesus" holding a cocktail and cigarette.
The intersection of art and sunglasses isn't a new thing — the brand has dabbled with some pretty impressive partnerships in the past, including Japanese erotic-fetish photographer Araki, photographer Steve McCurry, and the estate of artist Jean-Michel Basquiat.
Check out the rest of the ad campaign below and shop the styles.
Photo: Courtesy of Etnia Barcelona
Photo: Courtesy of Etnia Barcelona
Photo: Courtesy of Etnia Barcelona
Photo: Courtesy of Etnia Barcelona
If you buy something through our links, New York may earn an affiliate commission.