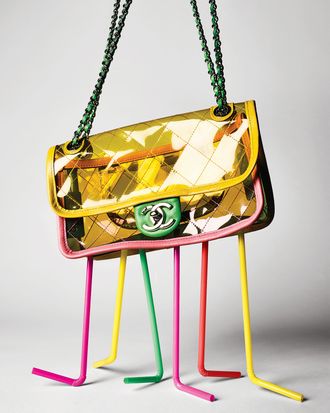 Photo: Bobby Doherty/New York Magazine
Finer Things is a photo series with a playful approach to elusive, glamorous fashion items we're fixated on right now.
A see-through handbag is a glimpse into the personality of the wearer. We see the lipstick brand of choice, the receipts and loose change tumbling about, some chewing gum perhaps. A clear handbag hides nothing, and Chanel's spring collection posits transparency will be big with a range of totally clear bags, boots, and rain hats.
We are particularly taken with this version in tinted color blocked yellow, pink, and green PVC. The colored filter maintains the trend but slightly obscures whatever's inside.
Chanel PVC and lambskin clear handbag, $2,600 at select Chanel boutiques. Call 800-550-0005 for more information.