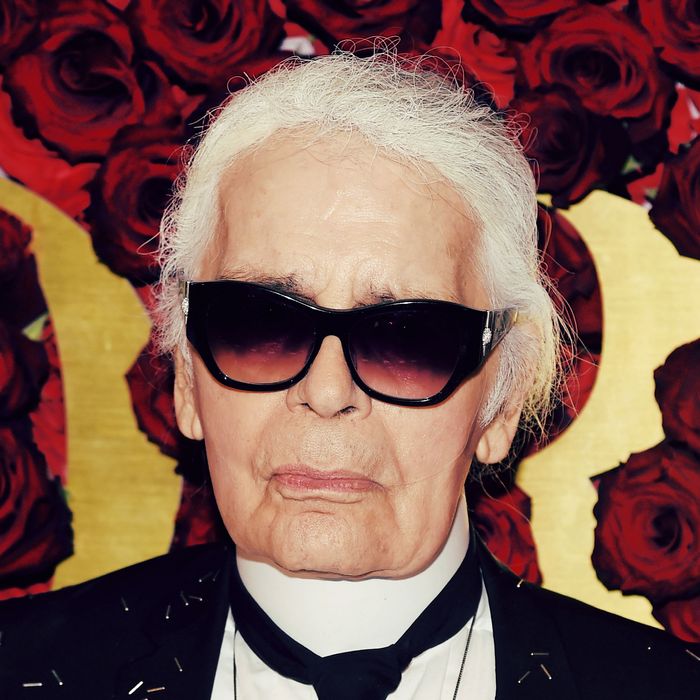 Karl Lagerfeld.
Photo: Jamie McCarthy / Staff/2017 Getty Images
When you're at the top of the fashion food chain, you're given license to speak in your own language. Anna Wintour has her "AWOK," and Karl Lagerfeld, it turns out, has his "Choupettes." That's right, Chanel designer Lagerfeld refers to his favorite models with the same name he's given to his cat.
Lagerfeld's love for Choupette (the cat) is well documented. Choupette has her own line of pricey stuffed animals, has personal maids and a very special Dyson hair dryer. In 2015, she made 3 million euros. Lagerfeld has said that she has made him a "better person" and described her as "an inspiration for elegance. For attitude."
So, maybe it's not such a surprise that he thinks of his model muses in the same way. Lagerfeld told Vogue UK that his favorite model of the moment is 20-year-old Luna Bijl.
"She, and the daughter of Vanessa Paradis, Lily-Rose Depp, they are my Choupettes." The group also includes Kaia Gerber, Adwoa Aboah, and Cara Delevingne.
For Lagerfeld's Chanel show today, he marched the Choupettes down a runway made to look like a forest. The brand has reimagined runways as carousels, supermarkets, and the Eiffel Tower in the past. But this looked like something out of a fairy tale, or at least a romantic comedy.
The collection consisted mainly of similarly hued tweed dresses, coats, and ball gowns. There were a few pops of color, but mostly on vibrant fingerless elbow-length gloves. Kaia looked good in them at least, but, then again, she is a Choupette.