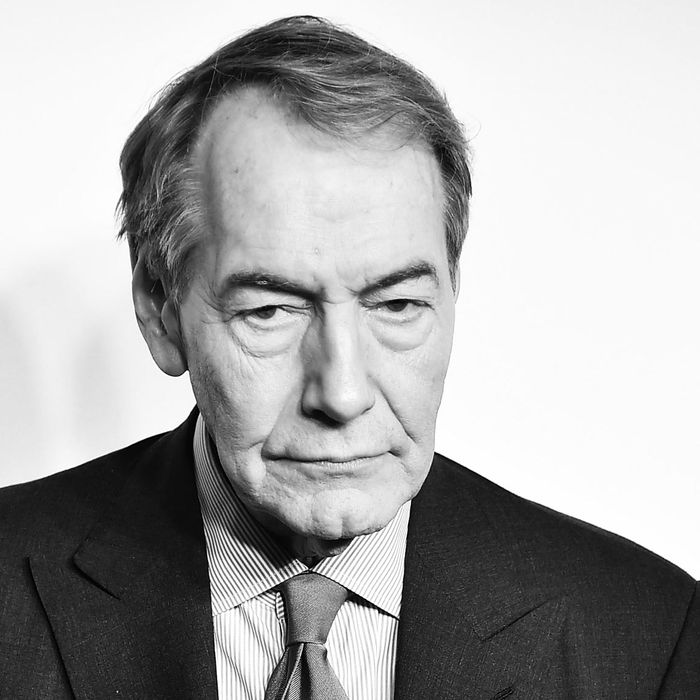 Charlie "H" Rose.
Photo: Theo Wargo/Getty Images
In November, CBS and PBS cut ties with veteran TV host Charlie Rose after multiple women accused him of sexual misconduct, including one who said he groped her rear, and two who accused him of walking around naked in front of them after a shower. On Sunday, however, the alleged harasser enjoyed an outpouring of support from fans clamoring for his return — and all it took was one misfired tweet!
Prior to this weekend, Rose hadn't tweeted since November, when he issued a non-apology for his behavior. "I have behaved insensitively at times, and I accept responsibility for that, though I do not believe that all these allegations are accurate," Rose wrote. "I always felt that I was pursuing shared feelings, even though I now realize I was mistaken."
On Sunday afternoon, he followed that up with this:
Was this a pocket-tweet? The result of a dropped phone? A secret message to fellow bathrobe connoisseurs? We don't know. Whatever it was, Rose's "H" prompted dozens of fans to express their support for the disgraced host.
"Charlie, welcome back. Your absence has left an intellectual void not only in my life, but that of many of your viewers," one user tweeted.
"CHAAAARRRLLLIIIIEEEE!!! … we miss you man!!" replied another.
"You were my lifeline to all things important in the world," wrote one woman. "Please come back."
"Hang in there Charlie. Hope you get through this and come back stronger and better," said another.
As New York's Rebecca Traister noted, these replies "are stark evidence of how firmly we're set to empathize with & admire powerful men."
Anyway. What was that about sexual-harassment allegations ruining a man's career?