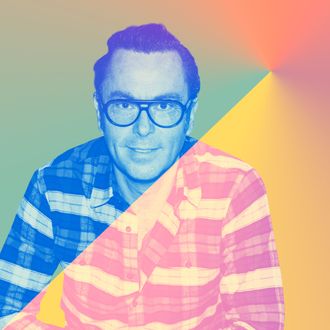 Photo-Illustration: Stevie Remsberg
If you've added the step of scalp scrubbing to your shower routine, you have Christophe Robin to thank. As with Glossier's Boy Brow and Biologique Recherche's P50, I didn't know I needed Robin's Purifying Scrub with Sea Salt until I tried it, and now I can't imagine not letting the goopy, salt-filled miracle treatment soothe my scalp every week.
"I kept noticing that clients had itchy scalps after their hair was colored, so I wanted to create something that would soothe the area," explains the French colorist, who resides in Paris. "You should treat your scalp the way you treat your skin. But it's also great for pulling out any leftover color that might be lingering after the process."
With clients like Tilda Swinton, Ines de la Fressange, and Catherine Deneuve, Robin could so easily be an imperious snob, but he is the polar opposite. Self-deprecating, with a sharp wit, he loathes pretension, snobbery, and nastiness.
"I do not like mean people," he hisses, shaking his head. "Mean people can make me very unhappy."
Robin has been wanting to make people happy — by means of great hair — since he was a tyke growing up on a farm.
"I remember watching my mother change her hair using color from the box you buy at the supermarket, putting her hair in curlers, getting her hair cut," he recalls. "I wanted to be able to transform her and her friends like that."
At 14, he left the farm to apprentice at a nearby salon (where rinsing clients' hair with salt water provided the initial impetus for that aforementioned scrub), then moved to Paris and procured a position at Jean Louis David. He opened his first salon at 24, moved it to the Meurice Hotel a few years later, and now calls the gentrifying Quartier Montorgueil his work home. The space is part salon and part boutique, where curious shoppers can even try products out with the help of a sink and blow-dry station.
Robin launched his first products in 1999 and has spent the past 19 years carefully and thoughtfully adding solutions where he sees voids. He loads his formulas with active naturals while staunchly avoiding silicones and sulfates. And as other scalp scrubs continue to pop up around him, he remains focused on his own babies.
"When people around me talk about the competition, it gives me a lot of stress," he complains. "I don't care! I don't want to hear about it! That's what kills all creativity!"
He put his hair coloring tools down for a minute to speak with the Cut about biodynamic farming, his love of Kylie Minogue and why Paris needs more hydrogen cars.
What music are you into?
I'm crazy in love with Melody Gardot's album Live in Europe. It's a real masterpiece in jazz. Also, George Ezra. His music is kind of folk guitar. I'm coming to New York to see him in concert. I moved all of my appointments to be sure I could make it.
Favorite time of day?
Very early morning. I love waking up at my house in Brittany the same time the sun wakes up, when the birds start to freak out and make a lot of noise.
Do you have pets?
I have one dog named Lily and two cats — a Maine Coon named Moumoune and a rescue named Minette. They're the most horrible common names! It would be like calling your dog "Doggie." And I give all of my cats the same name every time, so there have been several Moumoune and Minettes! But we take very good care of them. They're happy.
What scent do you wear?
It depends on the season and my mood. Right now, it's Santa Maria Novella Melograno, but also Francis Kurkdjian Aqua Celestia or Amyris Homme. I'm loyal to the brands, but I change among them all the time.
Daily uniform?
I'm searching for comfort because I stand all day. I usually wear sneakers — Nike, Adidas, Le Coq Sportif, and Ecco shoes. I rarely wear jeans, because I don't find them comfortable, except the Uniqlo ones. Uniqlo sweaters are extremely comfortable too — I buy them in black, navy, or gray. They look exactly like the John Smedley ones, but they cost 60 Euros and they last forever.
Who makes your eyeglass frames?
For 20 years, I wore Barton Perreira, but right now, they're Gucci. I have a big face and I am blind, so I need big glasses.
What do you carry your things around in?
I get my bags from a place in Morocco called Maroc'n Roll, run by Robert Merloz. He's got a very artisanal production of bags and accessories that are hand-painted, but you can also design your own. They're the best because they're big and easy to carry. I also have a lot of bags that Alber Elbaz gave me when he was at Lanvin.
What kind of surprise makes you happy?
When someone brings me this dish from Morocco called Pastilla. It's made with chicken and vegetables, olives, and sugar and it's very fattening.
If you could buy one big work of art, whose would it be?
A Gauguin, for sure.
What do you splurge on?
I collect embroideries from antique stores and flea markets, but I never use them. They sit in my closet, but I have to buy them because I admire the work that went into them so much!
What technology or app do you rely on most?
Instagram for sure, but there is a French gardening magazine that's over 100 years old called Rustica and they created an app that tells you what to plant each week, and I'm so happy for them! I also have an app that gives information about the tides. Brittany has the biggest tides in all of Europe, so we live by them.
Favorite Instagram?
I love @thriftstoreart. It's a guy who goes into antique stores and picks out crazy things. Also, @Celestebarber and @Wardhair.
What or who makes you laugh?
The French actress Julie Ferrier. She makes me pee in my pants. I could see her show eight times and every time I would laugh like crazy.
What is your favorite meal and where is it served?
Crepe au sucre. It's a very simple crepe, but sometimes very simple is the most difficult to do. The one served in Café Rouge in Dinard, Brittany is truly the best in the world.
Go-to karaoke song?
"Love at First Sight" by Kylie Minogue. That song always makes me happy.
What product of yours is misunderstood and should be a best seller?
My Cleansing Mask with lemon. It fixes color, soothes hair, good for the scalp. Since it's non-lathering, people always ask me if it's actually cleansing their hair.
What do you wish you had invented?
The hydrogen car. There's so much pollution in Paris, we need more of these.
Favorite spot in the entire world?
Moorea, the island in the South Pacific. I go every July. The nature is just crazy and they are the kindest people in the world. Their religion is to cherish their family, children, and the elderly.
What do you foresee as the top beauty trends in 2018? Everything is so much about individuality right now. I don't necessarily see this as a trend, but people want comfort, to be low maintenance, and maybe be a little bit more true to themselves and more willing to embrace their personality.
If you won the lottery tomorrow, what are the first five things you would do? (after, of course, donating the majority of it to your top charities … )
I grew up on a farm in the '70s where farming became industrialized with lot of pesticides. If I had a lot of money, I would help all the farmers turn their farms back into biodynamic, organic production. I'd love to change the way we raise and kill animals for food. No longer would animals have to be in trucks for 20 hours, thirsty and scared. It's all about agriculture because that's my thing. I know that's not five, but these two alone would cost a lot of money!