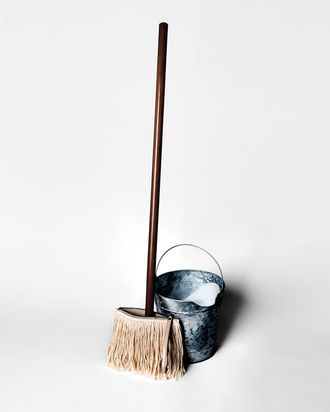 Photo: Bobby Doherty/New York Magazine
Finer Things is a photo series with a playful approach to elusive, glamorous fashion items we're fixated on right now.
The first thing that comes to mind when looking at this Christopher Kane clutch: it bears a striking resemblance to a mop. This is not a coincidence. In fact, Christopher Kane's spring 2018 collection was full of subversive references to housekeeping and femininity. Yarn-fringed booties and sponge-lined pumps were worn alongside dresses with doily collars and knits inspired by scouring pads.
Kane explained that he was commenting on the prim housewives of the 1940s. "We wanted to look at that in the collection; the idea of interiors, of a closed domestic world, made into the exterior look of a person. There is something so OCD about it, something both clean and kinky," he wrote on his website. And what's more OCD than carrying a bag that could double as a mop? Bonus: It's just big enough for a Tide Pen.