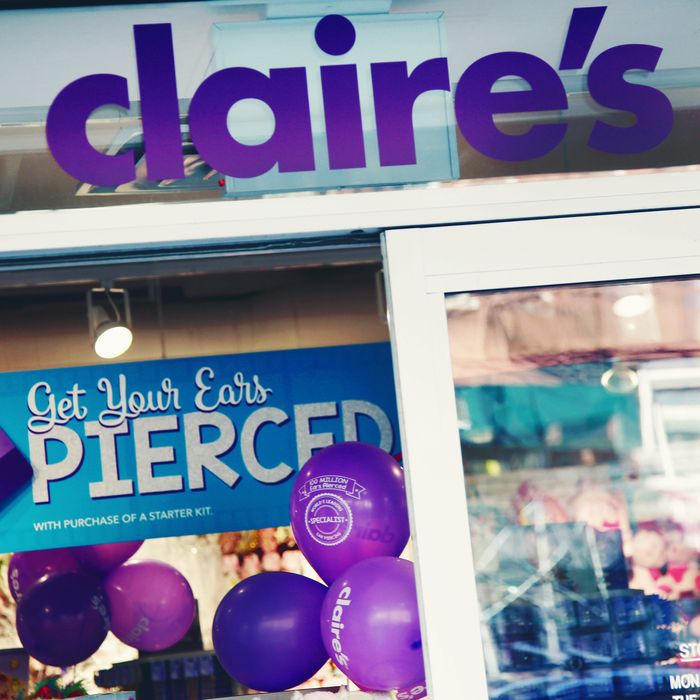 Claire's.
Photo: Seth Wenig/AP/REX/Shutterstock
If you were a teen or a tween in the late '90s or early aughts, Claire's was more than an accessories store to you; it was an institution. It was where you went to buy your first tube of lip gloss (before you worried it might contain asbestos), or, if you were a cool kid, where you went to get your ears pierced. When the company announced plans to file for bankruptcy yesterday, the Cut decided to walk down memory lane. Below, ten women — and one man — on their glittery, nostalgic, occasionally horrifying Claire's memories.
I Got the Infection of All Infections
I remember seeing the Claire's store for the first time when I was 11 and visiting America from Nigeria. I bought a wallet and every gross earring in there. My mom was really mad because I'm allergic, and I can only wear gold and silver. She forbade me to get my ears pierced there, even though I wanted more piercings. When I turned 18 and enrolled in college in the U.S., I went to Claire's again and pierced my cartilage. Oh my god, the infections of all infections! I knew it was infected, but I was so stubborn that I thought it would go away. I called my mom and told her and she was like, "You're an idiot. Go to the doctor." The doctor yelled at me and said I was too old to be getting my ears pierced by someone who doesn't know how to use a gun. The hole closed up literally the next day. —Aminatou Sow
I Got an Underage Piercing
I was 16 when I got my ears pierced there and my mom was so pissed. I don't think they were supposed to do it — don't you have to be 18? —Yashar Ali
I Became an Accessories Addict
It's safe to say that Claire's was my gateway to what's become a lifelong accessories addiction. It's where I bought an awfully large (and in some cases I do mean awful) number of accessory experiments, from frivolous headbands (to which I'm still susceptible) to toe rings (perhaps not my finest moment). —Dina Fierro
Claire's is where I got my ears pierced when I was a kid. As I got older it became the spot to go to with my friends to buy all the poofy accessories so we could look like Cher, Dionne, and Tai from Clueless. Sad to see them go! —Crissle West
I Spent a Lot of Money There. Recently.
Claire's recently relieved me, a grown woman, of $50. I needed a headpiece for a 1920s-themed party. After trying things on for an hour — during which I was the only person there — I finally decided I would buy three headpieces and return the two I decided not to wear. I went up to the counter and the clerk said, "It's buy three, get three free." So I spent another hour picking out two earrings for my tragus and a goofy cellphone case. But the way the clerk rang it up, she took the total cost of the free items and divided it across them equally, so that I'd paid for everything but it was all discounted. So even if I returned the other things, I wouldn't get full price back. I basically ended up with a phone case, two earrings, three crowns, and a receipt for $50. I'm 31 years old — how did this happen? —Laura Chernin
I Covered Myself in Glitter
Before my friends and I had social lives that involved boys or basement parties, an exciting Friday night in middle school was getting dropped off at the mall for two hours. Claire's was located (strategically?) right in front of Auntie Anne's pretzels. Everybody knows that the smartest way to blow the $10 that your parents handed you was to get pretzel bites and a large blue slushie, and post up in the back of Claire's trying all the makeup testers. My personal favorites were the roll-on blue glitter and the nail polish with oversize glitter suspended in it. Sour candy was a good way to finish up the last few dollars you had, and then the really fun part was scrubbing the glitter in the shower off that night. —Emily Sundberg
I Bought My Wedding Ring There
We bought our wedding rings at Claire's in San Francisco when we eloped. Still wear them, didn't replace. —Laarni Ragaza
I Loved Their Mystery Bags
The one at the outlet mall near me used to do $2 surprise bags featuring merch you couldn't see until you bought — no returns. My younger sisters and I would each buy a bag, dump them on the table when we got home, and swap. —Dominique L.
I Turned to Claire's in a Time of Crisis
I came home from school one day crying because some girls had been being mean to me and my mom was trying to comfort me and she couldn't. For years I had wanted my ears pierced and she had said no, but she must have been so desperate to cheer me up that she relented and said "How about we go get your ears pierced?" So we went to Claire's and I stopped crying and got my ears pierced and was very happy. A bad memory turned into a good one! —Anna Silman
They Pierced Me in the Wrong Spot
When I was 8 or 9 I got my ears pierced there, and they pierced them way too low. Now I look ridiculous! I went a second time for a cartilage piercing and they did not do it right. It got infected and I had to have a doctor remove it because my skin had overgrown the earring. I would like to say, though, that I will always have a special place in my heart for Claire's — it's where my mom let me get my ears pierced for the first time, even though they messed it up. —Clare Palo
I was 12 and had somehow risen through the popularity ranks at my new school. Two of my classmates invited me to hang out at Square One (the good mall) and I managed to convince my dad to let me go. (This may have been my first time going to the mall without my parents.) Somewhere toward the end of this trip, we ended up at Claire's, circling the rotating earrings display.
Now, usually, I avoided these traps. I have severe nickel allergies, which means that most cheap earrings give me an itchy, unsightly rash that can last for days. But when my friends suggested we each buy coordinated (!) Christmas-themed (!)  earrings to mark our friendship (!), I caved. I forked over the $10 for a set of snowflake-shaped poison, and agreed to wear them the following school day.
You can see where this story is going. I had my moment in the sun, basking in the glow of what would turn out to be a short-lived best-friendship. And, as expected, my ears crusted over and cracked before the final bell. But I had no regrets. I wore my hair down for the rest of the week.
That was 15 years ago. I haven't worn nickel-based earrings since then, but my fondness for Claire's remains. RIP!  —Allyssia Alleyne