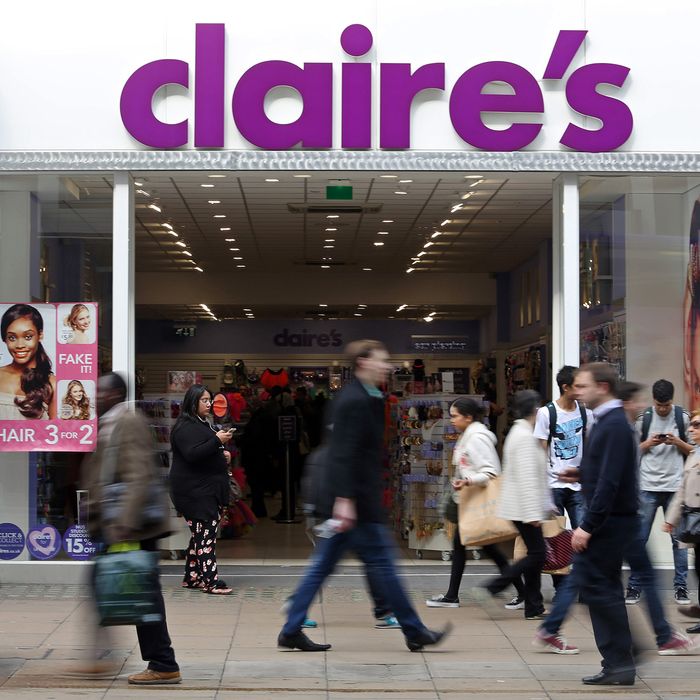 Claire's.
Photo: Chris Ratcliffe/Bloomberg via Getty Images
The early-aughts mecca of rubber earrings, One Direction merch, and dubious ear piercings is planning bankruptcy, according to Business of Fashion.
In an effort to ease $1.9 billion in debt, control of the company will pass from Apollo Global Management LLC to lenders. The debt is ten times more than their annual earnings. However, with a Chapter 11 bankruptcy, they could still operate stores.
The store has struggled to remain profitable in the declining mall market. Earlier this year, they faced a small scandal when some of their glitter-makeup kits were found to contain asbestos.
Claire's future may be uncertain, but the holes they drilled in the ears of millions of teens will live on forever.
Update March 19, 11:20 a.m.:
Claire's has filed for Chapter 11 bankruptcy in Delaware as of Monday. The filing says they've reached an agreement with creditors to restructure around their massive debt.
According to Bloomberg, they plan to keep stores open because of their reputation and their service that can't be replicated online: ear piercing. The court papers included the incredible stat that they've pieced 100,000,000 ears worldwide.