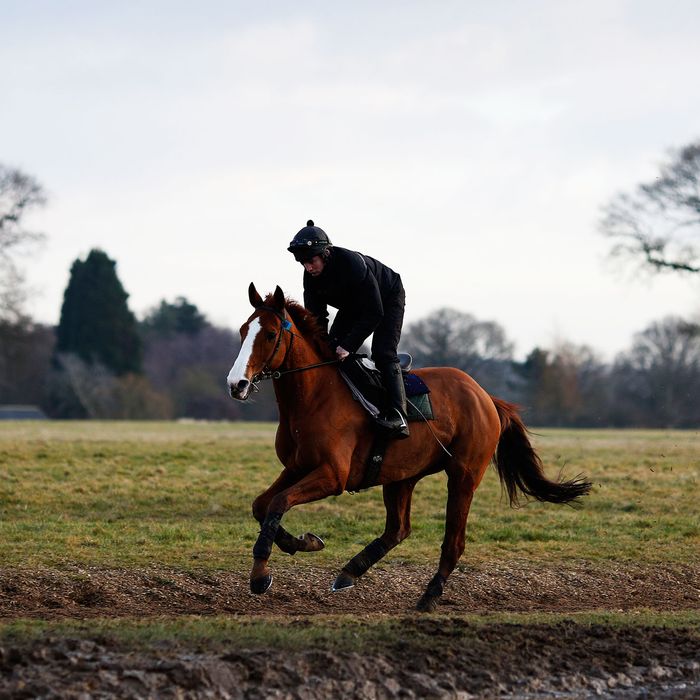 Photo: Alan Crowhurst/Getty Images
Ladies leave your horse at home — they are not welcome at the club. At a Miami Beach establishment this weekend, a bikini-clad woman literally shut down the club when she hit the dance floor on horseback, leading Miami Beach to revoke the business's license.
Yahoo reports that things became hectic when the horse got spooked, prompting it to throw off its rider and evacuate Mokai Lounge's dance floor. Club-goers reportedly screamed in fear, which is completely understandable.
Soon after the incident, Miami Beach revoked the club's business license and Miami Beach Mayor Dan Gelber delivered a press conference about it all. According to ABC journalist Dom Proto, officials are reportedly investigating the club for animal abuse, as well as public health and wellness safety.
The incident has also pissed off concerned citizens — and not just those who were at Mokai Lounge. A change.org petition called, "Miami Beach Police: Take action for animal abuse in Miami night club Mokai," started circulating Friday morning, and as of Sunday morning, it had received 2,887 signatures — quite a few more than its 500 goal.
"People go to night clubs to have a good time, enjoy drinks with friends, dance and party," the petition reads. "This environment is by no means a place for ANY animal or wildlife. A video of Miami nightclub, Mokai, showed a horse being ridden by a female employee and restrained by party goers in a struggle to run off. This is not only a danger to everybody in the night club, but the horses well being and safety."
The state of the horse's well-being has not yet been reported.