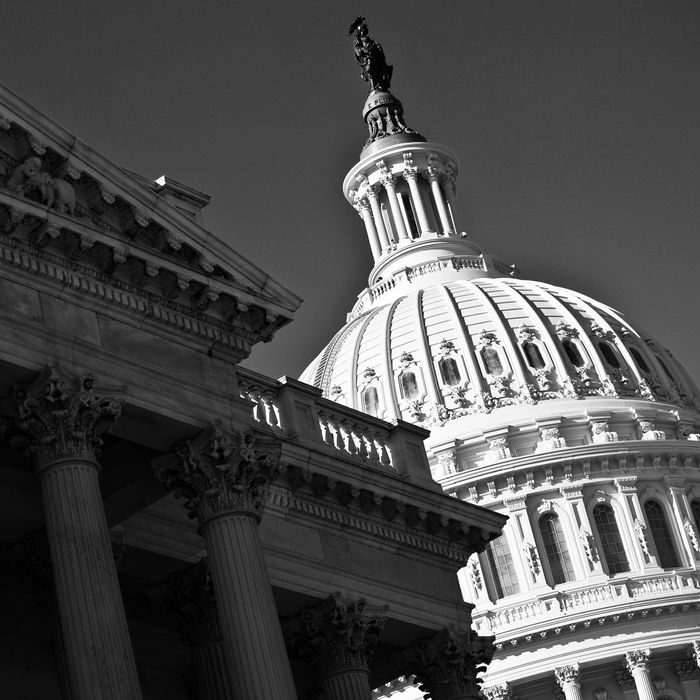 The Capitol.
Photo: Nicholas Kamm/AFP/Getty Images
A group of House Democrats bring us the latest batch of drama in Washington: Certain members of Congress won't stop sleeping in their offices at the Capitol overnight, which some people say is not only an abuse of taxpayer funds but is also downright "nasty."
According to Politico, more than two dozen Congressional Black Caucus members signed a letter to the House Ethics Committee seeking a probe into the "legality and propriety" of politicians treating their offices like a hotel. The practice is popular among conservatives, like Senator Paul Ryan, who sleep in their offices to show that they're thrifty and have an aversion to Washington.
In 2015, Ryan said about his office-sleeping habit: "I get up very early in the morning. I work out. I work until about 11:30 at night. I go to bed. And I do the same thing the next day. It actually makes me more efficient. I can actually get more work done by sleeping on a cot in my office." Now, an estimated 40 to 100 Congress members actually sleep in their offices overnight, Politico notes.
But many people, like Representative Bennie Thompson of Mississippi, are not impressed. "There's something unsanitary about bringing people to your office who are talking about public policy where you spent the night, and that's unhealthy, unsanitary — and some people would say it's almost nasty," Thompson told Politico.
The letter to the Ethics Committee claims that the practice might actually violate federal law or House rules. The letter reads:
Members who sleep overnight in their offices receive free lodging, free cable, free security, free cleaning services, and utilize other utilities free of charge in direct violation of the ethics rules which prohibit official resources from being used for personal purposes.
The letter signers had asked the Ethics Committee to get back to them by January 5, but they've apparently not heard anything in the two months that have passed. Hmm … perhaps the letter got buried under someone's congressional cot.