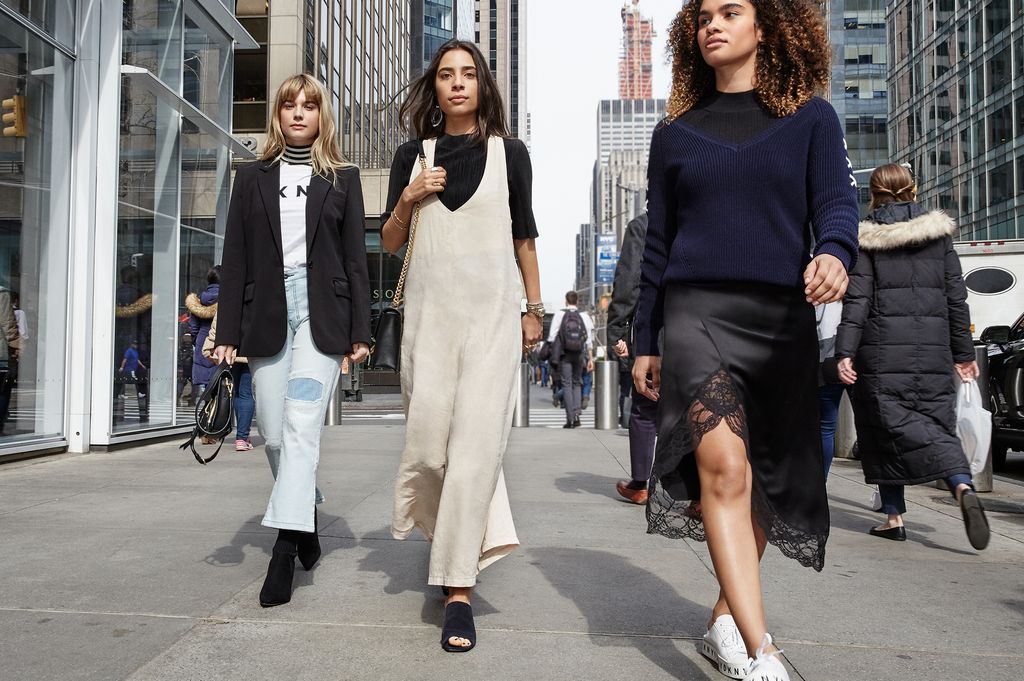 Whether you're a diehard fashion-mag subscriber or a person who's casually interested in looking good, there's a high chance you get at least some style inspiration from Instagram. So to prevent your wardrobe from being figuratively blindsided when spring finally arrives, we looked to three women in our feeds with follow-worthy looks. Below, we went beyond the grid with them to get new-season outfit ideas featuring fresh DKNY pieces, along with styling tips for real life.
Bianca Valle, writer and artist
Her bio: I live in Chinatown and am a multifaceted creative. I paint, take photos, and share my self-taught knowledge of beauty, wellness, and outlook.
How she dresses day-to-day: Straight-leg or wide-leg pants are my signature. The rest of my style is constantly shifting. Some days I wear a hoodie and statement earrings, other days I feel like wearing a Victorian-inspired top or a vintage T-shirt with Chelsea boots.
What she considers when deciding what to wear: My blood is so thin from living under the California sun most of my life – I'm from Coronado – that when it's below 60 degrees, I want to be as layered as possible. I usually go for the "oh I'll just throw this on" look, but I probably did just throw it on.
Her notes on the looks shown here: I work out every morning, so I spend a lot of time in leggings. And I love the sleek neoprene and shapes of the DKNY Sport bags. I would wear the jumpsuit day look to brunch on a sunny day.
What else she'll be wearing this season: Straight-leg pants, a baby tee, skate sneakers, and a bomber jacket. I also can't wait to break out my slides and mules.
Her go-to styling trick: Even if I am wearing a simple T-shirt and jeans, a belt automatically adds an interesting layer to my look.
Why she's excited for spring: My website just launched, where I will be writing about my beauty and wellness routines. It's wild that people out there want to know how I take care of myself!
Summer Dawn, stylist
Her bio: I live in the East Village, and I love eating, drinking, reading, writing, and acting. I'm passionate about movies and our environment. And you can usually find me in Soho; I get a rash if I go above 14th Street.
What she'll be wearing this spring: I can't wait to wear skirts and dresses with no tights. And I'm usually a strictly T-shirt girl, but I want to be more serious and buy more tops and blouses.
Her style strategy: I'm a lazy dresser, and I like to be comfortable always. I'm usually wearing jeans, a hoodie, or both. If I'm not working, I'm excited to wear sweatpants. But still designer sweatpants, ha! And colors make me happy – I never wear all black.
The rundown on her looks here: I would wear the blazer look anywhere: to a meeting, a date, et cetera. A blazer always makes me feel confident and strong, and I feel sexy and comfortable in jeans. I'd wear my pleated-skirt look to a lunch date or class. I love dressing down dresses or skirts with a sweatshirt.
Her new-season styling tips: When I get a new bag or piece of jewelry, it changes my whole wardrobe – sometimes it's all you need to feel inspired or repurpose something in the back of your closet. And don't be afraid to layer! It's easy: Just add a sweater or hoodie and socks and sneakers to a sundress.
Why she's excited about spring: I'm traveling a lot! Weddings! I love when the flowers start to bloom and you can sit outside at a café again. That's my favorite day of the year, the first day you can sit outdoors and enjoy lunch or dinner.
Cheyenne Adler, blogger and mental-health advocate
Her bio: I am a creative woman of color whose objective is to make the world a better place. My blog, with cheyenne, provides a safe space for those who identify as female and struggle with mental health and body positivity.
Her style philosophy: I like to say I'm a "moody dresser" – some days I want all eyes on me with an emerald faux fur and sparkly boots; other days I might throw on jeans and a turtleneck. It's so important to me to feel confident in everything I put on so I can feel my best when I tackle life.
The story on her looks shown here: I could run from meetings to events in the trousers-and-sweater outfit – it exudes casual sophistication. In my second look, layering a sweater over a slip skirt with sneakers embodies low-key sexiness. It's feminine but also says "back up off me." I'm all about that duality!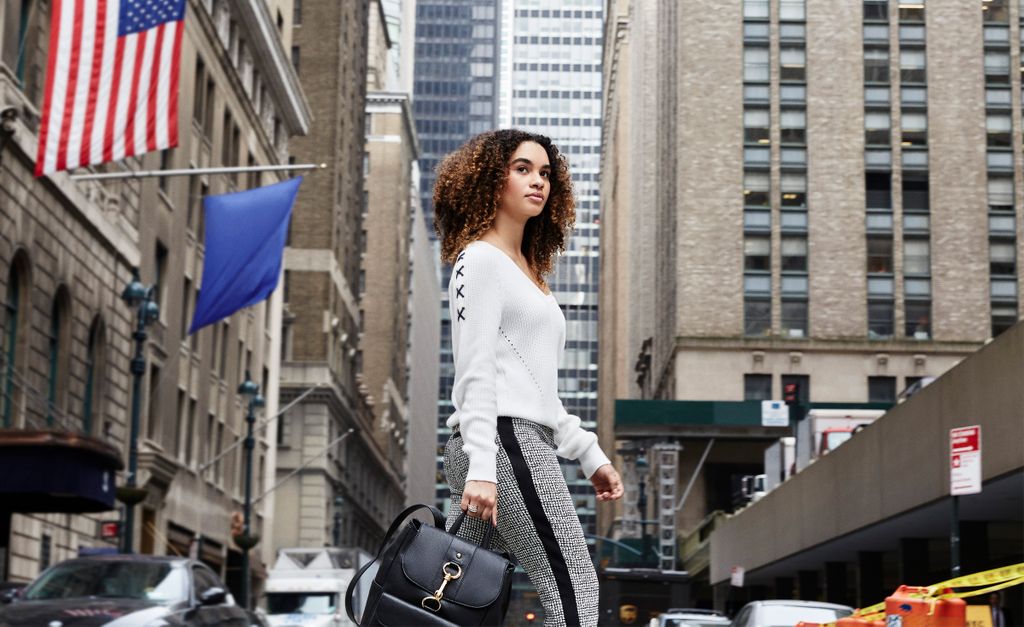 What else she's planning to wear this spring: I'm super excited to try a monochromatic lilac outfit. Otherwise, my palette will be neutrals with pops of hot pink, red, or blue. And I can't wait to wear an off-the-shoulder dress and sneakers.
Her inspiration right now: I just got back from Paris so I'm living and breathing the French way of dressing — subtly sexy yet simple and put-together. I'm incorporating more dainty rings and earrings as well as a beret or two.
Why she's excited for spring: I just left my job in brand marketing at a major tech company, and I'm taking time to invest in myself and reset my creative juices. I'm excited to pursue creative opportunities that test, teach, and empower me, and put me in contact with strong, intelligent women, especially women of color.
This is paid content produced for an advertiser by New York Brand Studio. The editorial staff of The Cut did not play a role in its creation.