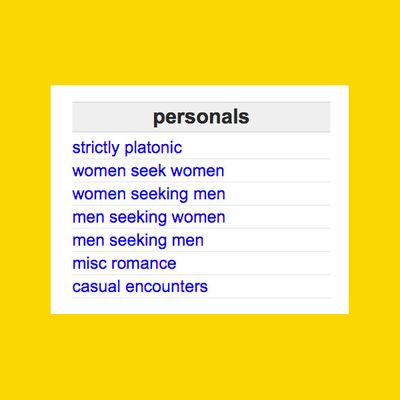 Back before matching algorithms and swiping left and right were the only ways to find love (or lust) online, there was a thing called Craigslist. The idea behind Craigslist is "what if the classified ads, but online?" Aside from selling things, one of the most popular parts of the site was for finding dates — or paid companionship.
This week, the House of Representatives approved a bill known as FOSTA (Allow States and Victims to Fight Online Sex Trafficking Act of 2017), which places legal responsibility for sex-work interactions on platform holders, rather than individual users. It's a dramatic shift, since platform holders have, for years, been immune to legal responsibility for what their users do on their platforms, provided that they responded to inappropriate behavior effectively.
Unlike companies like Facebook or Google, however, Craigslist is and has always been stubbornly simple. It doesn't use advanced AI or whatever to root out bad posts. Because of that, the site announced last night that it was taking down the Personals section entirely.
A brief note reads:
US Congress just passed HR 1865, "FOSTA", seeking to subject websites to criminal and civil liability when third parties (users) misuse online personals unlawfully.




Any tool or service can be misused. We can't take such risk without jeopardizing all our other services, so we are regretfully taking craigslist personals offline. Hopefully we can bring them back some day.




To the millions of spouses, partners, and couples who met through craigslist, we wish you every happiness!
This sort of reaction is one that those who oppose the bill feared; that it would cause a chilling effect on legitimate platforms that would shut down functionality entirely rather than assume the legal risk. In the meantime, the one guy still in charge of personal ads at your local print paper is doing backflips.