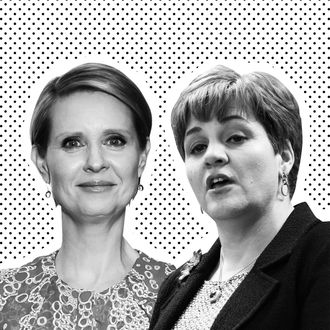 Cynthia Nixon and Christine Quinn.
Photo: Getty Images
On Monday, after months of rumors, actress and activist Cynthia Nixon announced that she was running for New York governor in a campaign ad that positioned her as a progressive alternative to Andrew Cuomo. On Tuesday, former City Council speaker and one-time mayoral candidate Christine Quinn slammed her as an "unqualified lesbian."
"Cynthia Nixon was opposed to having a qualified lesbian become mayor of New York City," Quinn told the New York Post. "Now she wants to be an unqualified lesbian to be the governor of New York. You have to be qualified and have experience. She isn't qualified to be the governor." (Quinn is a lesbian and Nixon is bisexual and currently married to a woman.)
Let's unpack this further.
Back in 2013, Quinn — known for her volatile temper — was the front-runner in the New York mayoral race. Nixon chose to back current mayor Bill de Blasio, telling the New York Times:
"I've got to say, I'm not anti-Chris Quinn," Ms. Nixon said. "I worked alongside her in the marriage fight, and I believe she was incredibly eloquent and incredibly effective. But apart from that particular gay issue, I don't see a lot of stuff where I line up with her."
In a parallel universe, Quinn won the race and de Blasio's trips to the Park Slope YMCA are not particularly newsworthy. But in this one, Quinn lost. Then, in 2015, she was hired by Cuomo — noted de Blasio enemy, and Nixon's current political rival — to work as a special adviser.
Quinn attempted to walk back her comments on Tuesday afternoon, tweeting that she would "never, EVER [sic] criticize someone because of their identity." She added that Nixon "aggressively opposed my candidacy in New York despite my qualifications for the office and despite my strong progressive credentials."