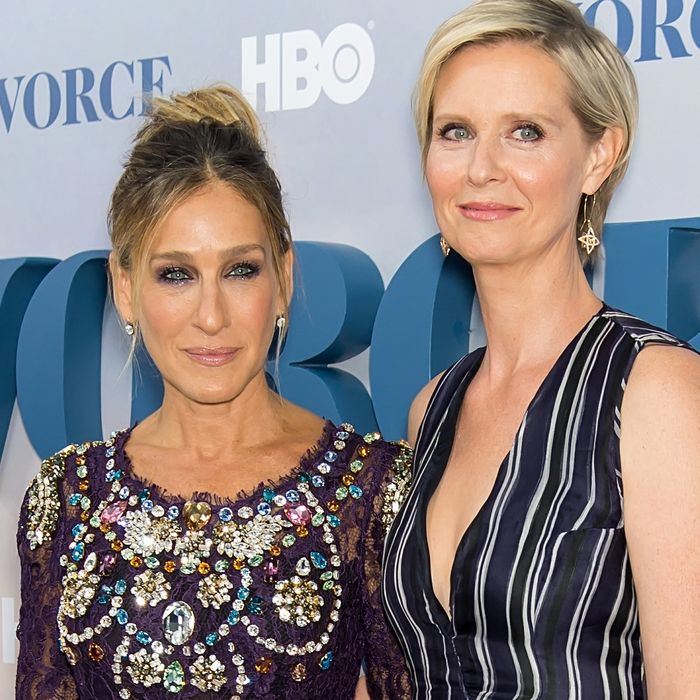 Sarah Jessica Parker, Cynthia Nixon.
Photo: Gilbert Carrasquillo/FilmMagic
When Cynthia Nixon announced recently that she's running for New York Governor, one small local contingency seemed like a sure vote for the actor and activist: the former cast of Sex and the City. Sure enough, Kristin Davis (a.k.a. Charlotte York), gave the candidate her seal of approval, as did Nixon's former on-screen husband David Eigenberg (you know him as Steve). But, according to Page Six, Miranda Hobbes' best friend on the show might not be willing to give her full endorsement, at least not yet.
"Cynthia has been my friend and colleague since we were little girls," Sarah Jessica Parker told Page Six through a representative. "I look forward to talking to her about her New York state gubernatorial bid."
Though the statement certainly didn't rule out a possible vote from SJP in the Democratic primary, it wasn't exactly the same full-throated support other co-stars offered. Lynn Cohen, who played Miranda's baby nanny in the series told the Cut, "She's an amazing person, and she's been talking about the schools and the children and I wish we had more people like that who are interested in the government." Eigenberg concurred, saying, "She's incredibly smart and caring, diplomatic and brave."