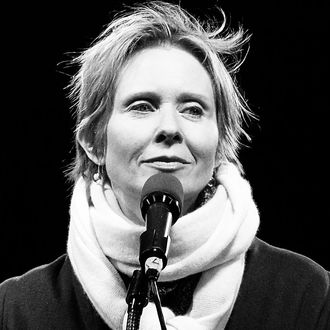 Nixon at a rally outside Trump Tower in 2017.
Photo: D Dipasupil/Getty Images
When Cynthia Nixon announced on Monday that she was running for governor of New York, there were a multitude of questions surrounding her candidacy, questions like: Can she beat Andrew Cuomo? (Maybe.) Would she fix the subway? (Someone needs to.) Is she related to Richard Nixon? (No.) Would Miranda, the best Sex and the City character, finally get recognized as such? (She should.) And what does Baby Brady look like now? (Older.)
But mostly there were questions about what Nixon, a celebrated actress, had in the way of political experience. And although she's never run for or held office, she does have years of activism under her belt and is positioning herself as the progressive alternative to Cuomo.
Here's what to know about her past involvement in the issues:
She's been a public education advocate since the early aughts.
Nixon, a lifelong New Yorker, grew up in the city, went to public schools, and is also sending her three children to public schools. But beyond personal choice, the Guardian reports that she started education advocacy work "in the early 2000s, when then New York mayor Michael Bloomberg proposed cutting the schools budget." She's also a spokesperson Alliance for Quality Education, a group that fights for fair and equitable access to public education across New York.
She's heavily involved in LGBTQ rights and lobbied for marriage equality.
Nixon's sexuality was brought into the spotlight recently by former City Council speaker and mayoral candidate Christine Quinn, who slammed her as an "unqualified lesbian." Nixon is actually bisexual and currently married to Christine Marinoni — also an education and LGBTQ rights activist — whom she met at a gay-rights rally. She also lobbied strongly for marriage equality both in New York and nationally and gave a speech outside the historic Stonewall Inn last year at a rally to show LGBTQ solidarity with those affected by Trump's immigration ban.
She's a supporter of reproductive rights.
Nixon has long championed reproductive rights and has spoken at Planned Parenthood fundraisers. In 2016, she wrote a moving essay for Time titled "Abortion Rights Are Human Rights" arguing against the rollbacks of reproductive rights across America.
And women's rights in general.
She also gave a speech at the 2017 Women's March in New York and took her children along for the ride in 2018.
She's (obviously) anti-Trump and has backed several prominent Dems in the past.
From speaking out against him at rallies and encouraging grassroots political action, Nixon has been a vocal critic of President Trump. In the past, she's campaigned for President Obama, Senator Al Franken, and especially New York mayor — and noted Cuomo enemy — Bill de Blasio.