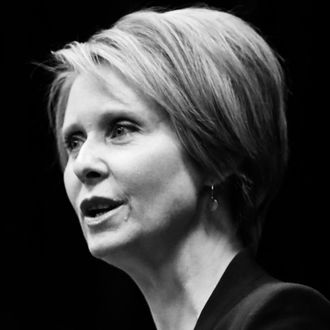 Cynthia Nixon.
Photo: Frank Franklin II/AP/REX/Shutter
New York gubernatorial candidate Cynthia Nixon continues to lean into the insult lobbed at her during the very first days of her campaign: she's now selling "Unqualified Lesbian" buttons on her site.
The dig came via former City Council speaker and one-time mayoral candidate Christine Quinn after Nixon announced her run. (Quinn is a lesbian, while Nixon — who is married to a woman — has identified as bisexual.) Nixon both used the label to promote her first campaign fundraiser at the Stonewall Inn, and later joked about it at the event, saying, "I just want to say tonight that she was technically right, that I don't have my certificate from the Department of Lesbian Affairs — though in my defense there's a lot of paperwork required."
In part, this brings to mind the way "Nasty Woman" and "Nevertheless, She Persisted" were co-opted as slogans after they were used to criticize Hillary Clinton and Elizabeth Warren, respectively. It also signifies that Nixon is willing to have a sense of humor and wield it strategically — something her opponent, Andrew Cuomo, seems unable to do so far.