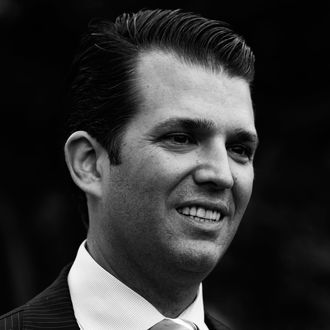 When he asks you to send feet pics.
Photo: Leigh Vogel/WireImage,
A few days after news broke that Donald Trump Jr. and wife Vanessa were divorcing, reports began to circulate that he once had an affair with Danity Kane singer Aubrey O'Day. In an attempt to get to the bottom of the rumor, the Daily Mail went full Woodward and Bernstein … on Trump Jr.'s feet.
In an article titled "Are Aubrey O'Day and Donald Trump Jr playing footsie in bed with one another in this photo taken during 2012 affair?" the British tabloid posits that a tweet sent by O'Day in 2012 features the eldest Trump son's feet. Here it is, for reference:
From then on, feet pics abound. To aid the reader, there's even a tool that allows you to seamlessly slide between a zoomed-in picture of the anonymous male foot and and a zoomed-in picture of Trump's foot. Spoiler: They look alike in the sense that they both have five toes and are feet.
But that doesn't stop the Daily Mail (who also recently published masterpieces like "Woman, 57, claims she cured her depression and came off medication by recalling her PAST LIVES - including her time as an abused maid who set herself on fire" and "Dramatic footage captures the moment a saucer-shaped UFO OVERTAKES a passenger jet - sending conspiracy theorists into overdrive") from forcing us to consider everything from Trump's feet to Erving Goffman's theory of self presentation:
Don Jr tends to hide his feet in photos despite his penchant for the outdoors, with most of the images he posts cut off at the ankle.
There are few pictures that show Don Jr' feet surprisingly, despite his penchant for the outdoors.
Trump cuts out his toes from many other Instagrams, like the one shown here.
Are we supposed to be exposing our feet in the outdoors? Is Trump embarrassed of his feet? Are we all subconsciously censoring our feet in some way? And, most importantly, why did I just look at so many pictures of Donald Trump Jr.'s feet?