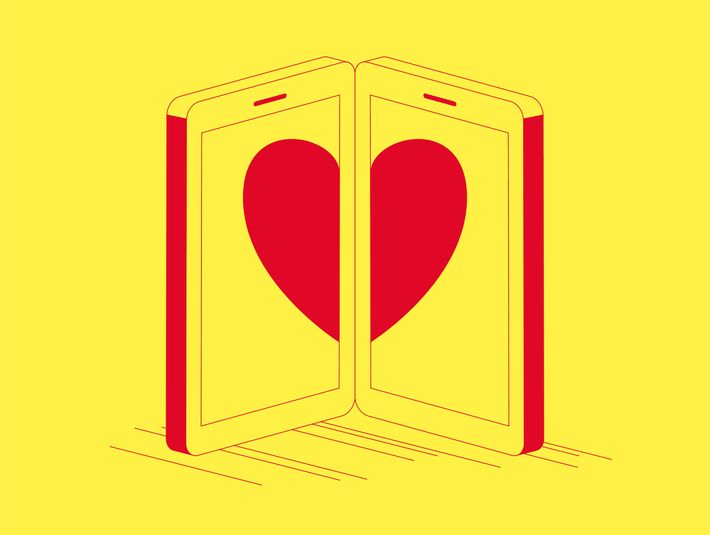 Thankfully, the stigma of using your smartphone to find a life partner has almost completely dissipated. But anyone who's swiped for love knows that using dating apps still has its pitfalls. App fatigue is a real thing, and many rely on iffy data points like current location or existing connections. But there's hope: Disruptive new apps like Once (a newcomer in the U.S.) are addressing some of the most significant barriers to a positive online-dating experience. For its part, Once boasts savvy features like date rating and interest-based matching.
Jaded by digital-dating woes? Here, we spoke to some of New York's most eligible single folk to learn their biggest dating-app gripes, and discovered some ingenious solutions — none of which are dying alone.
For God's Sake, Stop Swiping Already
"Most dating apps are so time-consuming that they feel like a second full-time job." —Dylan, 25, Lower East Side
More doesn't necessarily mean better. Some apps use an accuracy-by-volume approach, which might work if you're looking to date around 50 percent of your city — or if you're unemployed and have the patience to comb through hundreds of profiles on a given night. If you find yourself trolling for hours without making headway, then it might be time to change up your game plan: Instead of opening an app out of habit, carve out time just once a day to dedicate to it.
Once, an innovative iteration of the traditional dating app, is making the case for just that — and calling it "slow dating." Named for the number of times per day during which members can pick potential matches, the app allows you to take your time and build a connection with each match before you move on. That means you're far less likely to seek out more options just because they're available and within a one-mile radius – and to get carpal tunnel while trying to find an S.O.
Trade Place for Taste
"I spend so much time swiping left on the same kind of person that I've completely given up on apps that filter out matches by location." —Devin, 31, Kips Bay
Sometimes, it just happens: You've somehow found yourself in midtown after 8 p.m. during the week, and you're surrounded by 200 versions of the same rooftop-mainstay bro. Even scarier is if (because life happens) you actually live in a neighborhood you barely identify with. Or, maybe you're a West Coast native spending a weekend on Long Island. Forget finding "your people." The hack: Instead of apps that focus on where you are, stick to ones (like Once) that match you based on what you like — without requiring a lengthy autobiography.
Keep Privacy in Your Control
"Everyone in my building does their laundry on Sunday nights, and when my ex fiancé and I broke up, my creepy neighbor saw me doing a dark wash alone without my wedding ring. He used it as an opportunity to pounce, and I told him my ex was upstairs and my ring was getting resized. I thought it worked — until he came across my profile on an app, took a screenshot, and confronted me the following Sunday. I send my laundry out now." —Erica, 33, Upper East Side
Don't want your neighbors, coworkers, or classmates knowing you're single (and looking) just because you joined an app? Sure, you can stick to dating surreptitiously IRL, or you can use an app that protects your privacy. On Once, only your match can see you, which means that creepy laundry guy can still be fooled by your fake engagement ring.
Read Report Cards for Liars
"He showed up looking older — like, two decades older — and was offended when I didn't recognize him." —Cora, 41, Queens
Everyone lies. And it's a major fear associated with finding a relationship via the internet. But some lies — like that you work out four times a week when it's really two, tops — are a little different than, say, using photos from 12 years ago, before the surgery. So instead of just a dating app, how about a rating app? It sounds pageant-like, but if someone's a bad date — at best, nothing like their profile, or, at worst, a danger to the people they're on dates with — wouldn't you want to know? Some apps use features like rating your date (for things like photo accuracy and their ability to hold a conversation), and real reviews, so if they're still using a photo from 2002, or they made you feel unsafe, flag their ass.
Avoid Mega-Players
"I'd been on this one dating app and convinced my friend to join. There was one week when we both matched with guys we were really excited about. They both were cute and witty and loved to travel, and when I started telling her more about my conversation with John*, I could see the blood drain from her face. Apparently, she had also matched with him, and they were having more or less the same exact conversation. He had the same one-liners and made the same seemingly nuanced jokes with both of us, just hours apart. We ended up going through our matches and found that a few guys used the same opening lines on us. So much for making a girl feel special."
—Ananda, 22, Hell's Kitchen
Know that apps that restrict the amount of people you can match with automatically weed out the serial daters, or those that mass-message matches with a boilerplate intro and hope you'll be the poor sap that bites. Don't be the poor sap. You deserve undivided attention.
While there's no official handbook for online dating (though Google might tell you otherwise) finding a real connection doesn't have to be tiresome — or worse, unsafe. In fact, it turns out that keeping it simple might just be the winning strategy. Instead of crowding your home screen with multiple dating apps filled with endless messages and matches, there are clear benefits to zeroing in on fewer, more meaningful connections – and one-of-a-kind opening lines only.
For a better dating experience, download the Once app, available on Android and iOS, and find out firsthand why it ranks number-one in downloads from Google Play in nearly a dozen European cities.
*Name has been changed.
This is paid content produced for an advertiser by New York Brand Studio. The editorial staff of The Cut did not play a role in its creation.