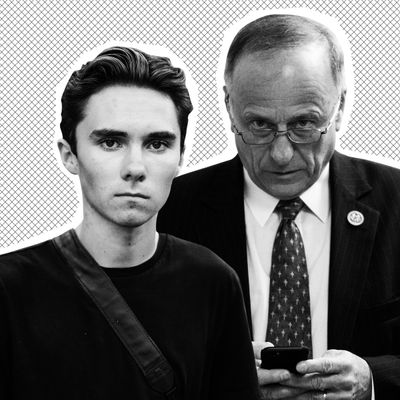 David Hogg, Steve King.
Photo: Getty Images
This weekend, Iowa Republican representative Steve King posted a meme to his Facebook account mocking Florida school-shooting survivor Emma Gonzalez for wearing a Cuban flag. The meme used a photo of the Parkland student delivering a moving speech at Saturday's March for Our Lives rally in Washington.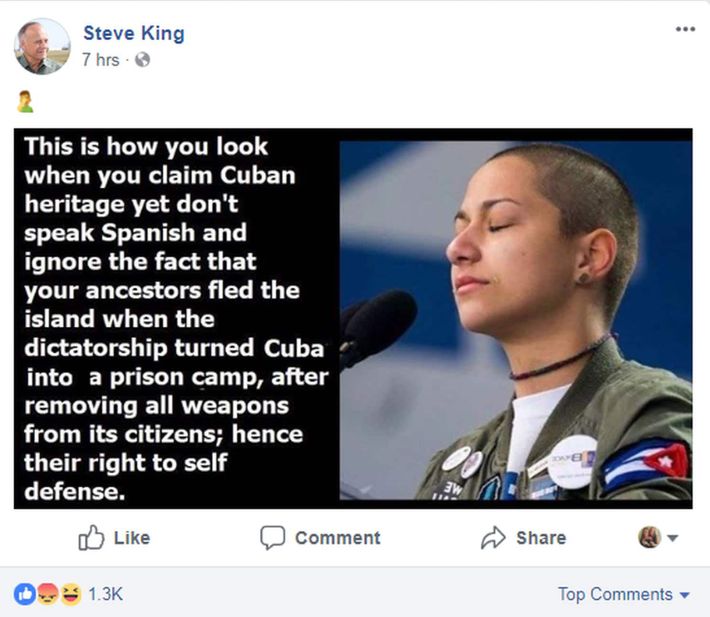 (This isn't the first time King, known for his anti-immigrant stance, attacked a Latinx women on social media.)
Other survivors of the Florida school-shooting tragedy quickly defended Gonazalez. Monday, Parkland student and visible #NeverAgain leader David Hogg stood up for Gonzalez on Twitter. He also called on Cuban American Florida senator Marco Rubio to have a word with King. Fellow activists Cameron Kasky and Sofie Whitney joined Hogg with retweets.
After receiving death threats, this group of outspoken teens isn't letting insults get in their way as they continue their fight against gun violence. Earlier this month, Hogg encouraged Maine residents to run against a representative who targeted discriminatory comments against himself and Gonzalez.