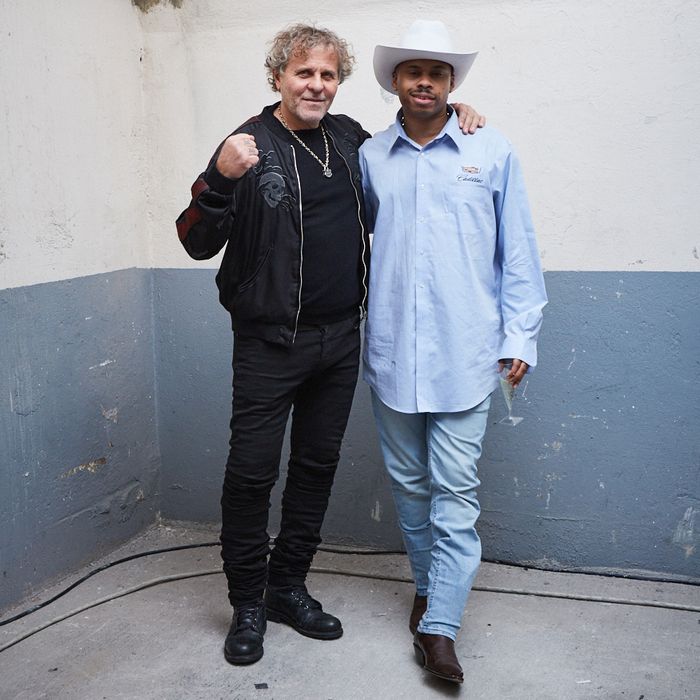 Renzo Rosso and Shayne Oliver.
Photo: Courtesy of Diesel
Ever since putting his own label Hood by Air on hiatus last spring, designer Shayne Oliver has used his talents to help give new life to already-established brands.
In September, Oliver was the first designer-in-residence for Helmut Lang, showing a full collection under the creative direction of editor-in-residence Isabella Burley. Now Oliver has moved on to Diesel, where the brand's founder, Renzo Rosso, has tapped him to help launch the Red Tag Project, a three-part collaborative series where designers are invited to create capsule collections riffing on Diesel's denim and sportswear heritage.
Diesel has been busy. In early February, the brand opened a knockoff pop-up shop on Canal Street, playing into the current real/fake discussion happening in fashion. (The shop also tapped into the "Clout Corridor" frenzy bubbling over nearby on Mercer Street.) It's a signal that the brand is open to experimenting with different modes of distribution — capsule collections being the latest industry trend. Moncler, for example, is also trying a similar model with its Genius project, which launched at Milan Fashion Week and tapped six different designers. It's a smart way to bring fresh talent to storied brands, and keep new products on shelves with frequent "drops."
Oliver's capsule collection for Diesel takes the brand's signature denim and gives it an experimental twist. Men and women, for example, are photographed wearing full denim neckties. As a whole, the collection can be described as early-2000s Britney Spears and Justin Timberlake for the nostalgic, 2018 shopper.
See a first glimpse of the capsule collection, below.