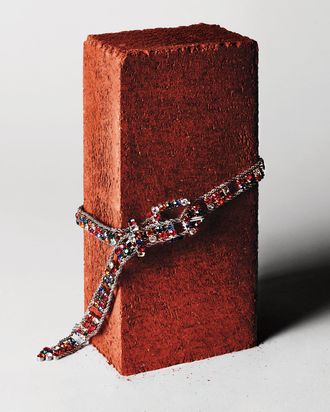 Photo: Bobby Doherty/New York Magazine
Finer Things is a photo series with a playful approach to elusive, glamorous fashion items we're fixated on right now.
The first look from Dior's spring 2018 collection stood out in a long season of clothes. Sasha Pivovarova came out wearing a pair of high-waisted jeans, a Dior logo tote, and a striped marinière printed with the title of Linda Nochlin's essay, "Why Are There No Great Women Artists?" Heavily Instagrammed, the moment sparked many a conversation on art and fashion.
It was easy to miss Pivovarova's belt in the hubbub, but it bears closer examination. Slim and made of multi-colored crystals, the belt made a few cameos in the show. Once, it appeared wrapped around a red chiffon dress; another time, it was camouflaged into a sparkly embellished dress. But the pairing of the fancy little belt and the jeans felt special. It was a fun styling trick, a little bit '80s and a little bit childish in spirit — a noteworthy moment, but easy to re-create at home.
Dior crystal belt, price upon request, at 21 E. 57th St.