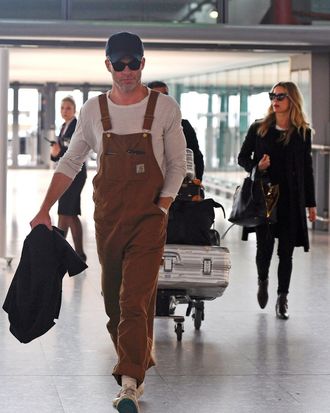 Chris Pine (in overalls) and Annabelle Wallis.
Photo: XPOS/M WRIGHT/JO/BACKGRID
A man in overalls: What do you think about that? I ask because Chris Pine, one of America's top Chrises, was spotted wearing Carhartt overalls at Heathrow airport yesterday. He was with the actress Annabelle Wallis, who used to date Chris Martin (a top Chris in England). I can't find any photographic evidence that Martin has ever worn overalls, but one time, in 2015, Martin and Wallis danced together in the middle of the street in Paris, and Wallis was wearing overalls. Do you think she likes how things are now, with the Chris wearing the overalls instead?
Pine's overalls look similar to the ones Gillian Jacobs wears on Love, which retail for about $60. That seems like a good price to me. Let me know what you think about Pine wearing them.