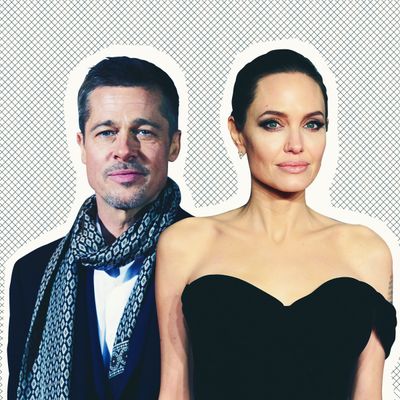 Brad Pitt and Angelina Jolie.
Photo: Getty Images
Welcome to You Know What I Heard, the Cut's weekly celebrity gossip column about the peregrinations of the rich and famous.
Last week, the mostly fictional tabloid Life & Style ran an exclusive story about how Angelina Jolie's dating life is going after her split from Brad Pitt. The headline: "Angelina Jolie Is Already Planning Her Wedding to Husband No. 4." Hmm, who's the lucky guy?
According to Life & Style's source, he's a "millionaire British philanthropist" whom Jolie's been dating for about a year. She's so smitten with him, the source said, that she's planning a summer wedding in London. (Hopefully not too close to Meghan Markle's.) The story sounds completely divorced from reality — can you imagine Jolie describing her boyfriend as a "millionaire"…? — but Life & Style may have gotten one part right. According to Entertainment Tonight, a much more reputable gossip outlet that got several exclusives during the peak of the Jolie-Pitt divorce drama, Jolie is dating someone. But he's not British, and she's probably not going to marry him.
ET reported yesterday that Jolie's new boyfriend is a "handsome, older-looking" real-estate agent. The relationship is "not serious," a source said, but this guy has been supportive of Jolie during the divorce. "Angie was in a very bad place after [her] split [from Brad]," the source said. "Just having another adult to spend time with has been helpful."
Pitt, meanwhile, is "casually" dating multiple women, another source told ET. "The women he sees are not in the public eye."
My guess is we won't get a glimpse of any of these randos until Pitt and Jolie finalize their divorce. But the fact that we're hearing about them suggests to me that negotiations may finally be wrapping up.
After breaking up with Selena Gomez for the umpteenth time, Justin Bieber is hanging out with somebody called Baskin Champion. Baskin Champion! She is a blonde, 22-year-old swimsuit model, just like you guessed. (This isn't the first time Bieber's dated a distinctively named model, of course. Please don't ever forget about Bronte Blampied.)
So how did Bieber and Champion meet? It turns out that Champion's sister Abby Champion is dating Arnold Schwarzenegger's son Patrick Schwarzenegger. Patrick is a 24-year-old actor who used to date Miley Cyrus. And he's very good friends with Bieber, which is how we get back to Baskin.
So far, Champion and Bieber have attended a Craig David concert together and spent a Friday afternoon hanging out at Bieber's house. A source told E! News that their relationship is not serious. But Champion seems like a serious person. During a local-news interview about her modeling career in 2016, she told a reporter, "I have already reached so many of my goals, such as moving to New York and Los Angeles, and modeling for bigger companies such as Hollister and Frankies Bikinis. I am excited to see what else the Lord has in store."
In even more thrilling celebrity relationship news, it looks like Lena Dunham has a new boyfriend. She was photographed hanging all over a "mystery man" on a walk to a marijuana dispensary in West Hollywood on Saturday night. You can see several pics of the paparazzi outing here. Do you think it's a coincidence that she debuted this new (objectively attractive) partner just a week or so after her ex-boyfriend Jack Antonoff was photographed at a Knicks game with his new model girlfriend, Carlotta Kohl?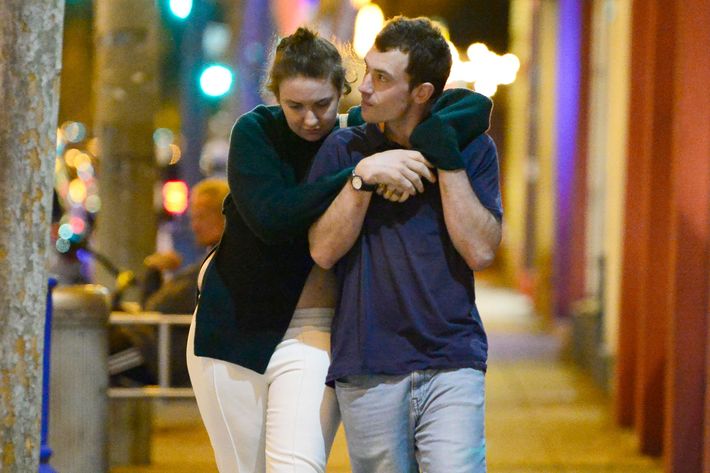 Jenny Slate, meanwhile, is going through a breakup. Her on-again, off-again boyfriend Chris Evans said in a New York Times interview that the two split again recently, though he didn't provide any details. If you want to re-familiarize yourself with Slate's feelings about her first breakup with Evans, take a minute and read Jada Yuan's excellent profile of Slate from last year.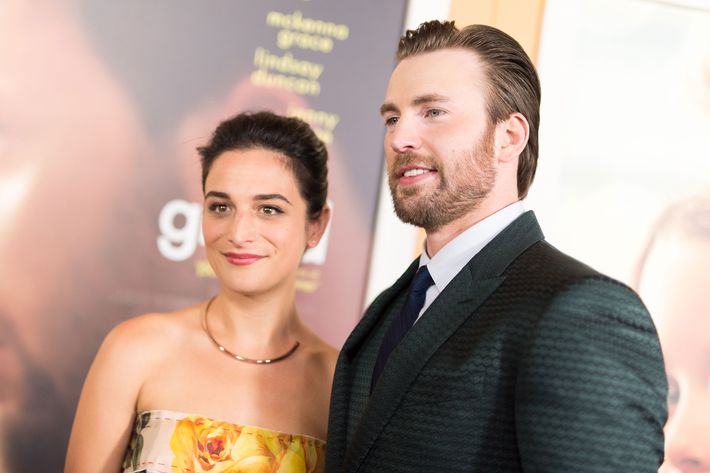 Or, if you really want the full history of the relationship, you could go back to Anna Faris's podcast, which Slate and Evans appeared on together in 2016 before officially coming out as a couple. At the time, Faris was still married to Chris Pratt, but now, of course, she's not. Faris talked about her breakup in another podcast belonging to Kristen Bell's husband Dax Shepard yesterday. Podcast podcast podcast. Are you with me? Faris told Shepard that she regrets cultivating a perfect image of her relationship with Pratt on social media.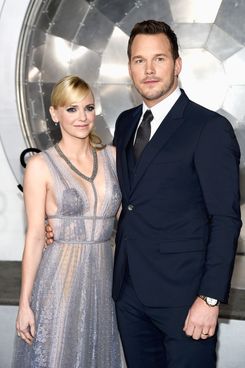 "We intentionally cultivated this idea of like, 'Look at this beautiful family,'" she said. "There were so many moments that were like that, but like anything on social media, you don't post like, 'Where the fuck is the toilet paper?' or whatever. I think it's a very hard forum to be genuine, and I think it does a disservice to people to not be."
Faris is now dating cinematographer Michael Barrett, and Pratt is dating a "mystery blonde".
One small blessing from this week:
Here is a photo of pregnant Kirsten Dunst and her fiancé Landry walking their dogs.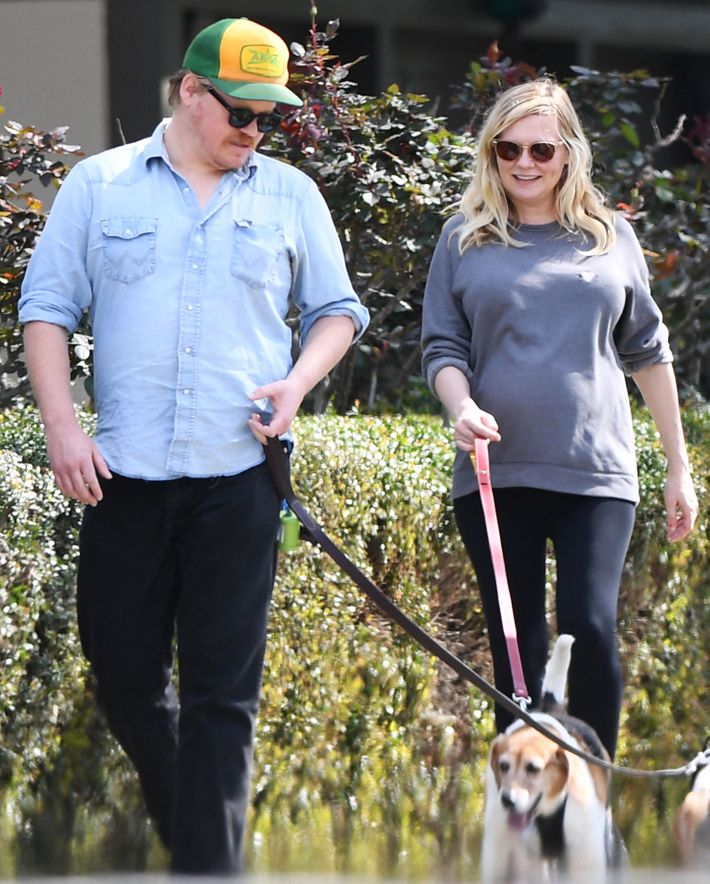 Finally, I'll leave you with the disturbing news that Justin Timberlake and Jessica Biel go to cryotherapy every other day. According to "Page Six," the couple has been spotted several times at Quick Cryo in Tribeca, as Timberlake prepares for his upcoming tour. For the uninitiated, cryotherapy involves standing in a freezing tank for a short amount of time for uh, health.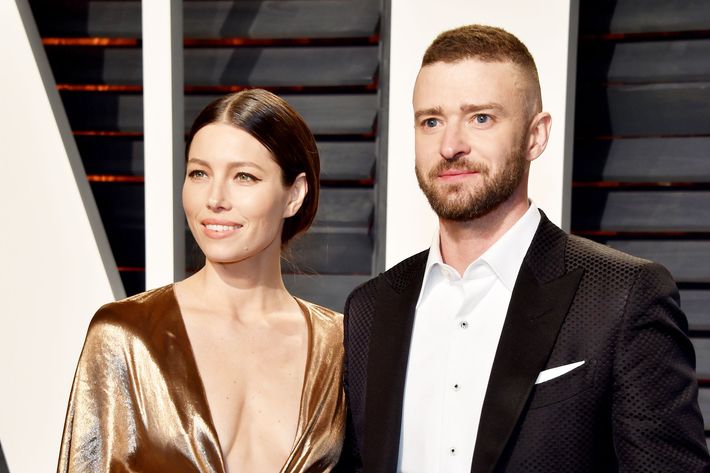 Brrr! Thank you all for gossiping this week. If you'd like to get this column in your inbox each week, subscribe at the top of this page. And don't forget to email me at allie.jones@nymag.com, send me a message on Twitter, or contact me on Signal, if you have gossip to share.