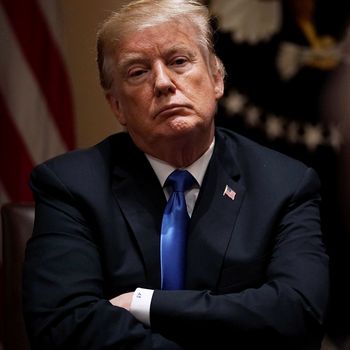 Donald Trump.
Photo: Alex Wong/Getty Images
On Friday night, hours after another tumultuous week wrapped up in Washington, the Trump administration issued a vaguely worded memo that would bar transgender people from serving in the military, while giving the Pentagon some discretion over how the policy is carried out.
The memo, signed by President Trump and filed in U.S. District Court in Seattle, states that "persons with a history or diagnosis of gender dysphoria — including individuals who the policies state may require substantial medical treatment, including medications and surgery — are disqualified from military service except under limited circumstances."
The move is an extension of the policy announced impulsively by President Trump on Twitter last July, in which he vowed to ban all transgender people from the military.
In August, Trump directed the Pentagon to reverse an Obama-era policy that had allowed transgender people, or those with gender dysphoria, to serve.
But in the following months, multiple judges blocked Trump's ban as unconstitutional, preventing it from going into effect.
Trump sought input from the military on the matter — or at least pretended to. In a report released on Friday, Defense Secretary Jim Mattis wrote that the new policy would "place the Department of Defense in the strongest position to protect the American people, to fight and win America's wars, and to ensure the survival and success of our service members around the world."
But Slate's Mark Joseph Stern reports that, according to multiple sources, Mattis "actually supports open transgender service," but was overruled by Vice President Mike Pence and other anti-trans forces in the administration, which were the real voices behind the report.
The new measures provoked a furious reaction from several civil rights and LGBT groups.
"What the White House has released tonight is transphobia masquerading as policy," said Joshua Block, a senior staff lawyer at the American Civil Liberties Union, in a statement.
The policy will face immediate legal challenges, and, given its similarity to last summer's version, has a strong chance of being knocked down again in federal court.
In a 2016 study, the RAND Corporation estimated that 1,320 to 6,630 transgender people serve in the military, with 830 to 4,160 serving in the reserves. The study concluded that allowing transgender troops to serve would have "minimal impact on readiness and health care costs."
Though it is often a fool's game to read too much into the administration's motives, the announcement, with its odd timing, could be seen as an attempt to mollify Trump's hard-right base hours after he signed a massive spending bill that did not include significant funding for a border wall. Trump made a show of publicly considering vetoing the bill before grudgingly signing it into law.