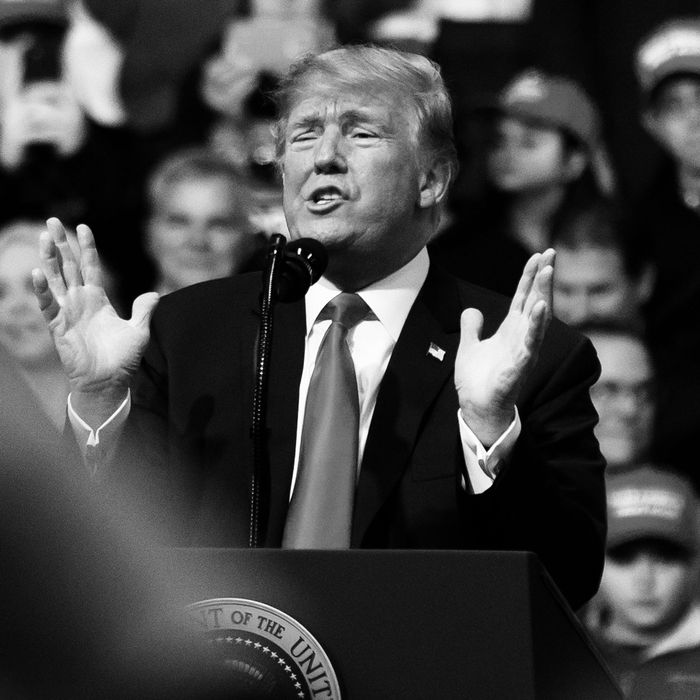 Donald Trump.
Photo: Jeff Swensen/Getty Images
Donald Trump loves to boast not only about how much he supports women, but how many women support him. While speaking at a campaign rally for Republican congressional candidate Rick Saccone last night, Trump decided to indulge in this beloved pastime by throwing out a statistic about how many women voted for him in the 2016 presidential election. It was, unsurprisingly, wrong.
Trump claimed that 52 percent of women voted for him, when in fact he got 41 percent of the female vote, according to exit polls. The 52 percent isn't an insignificant number, though — that's the percentage of white women who voted for Trump. Surveys found that only 4 percent of black women and 25 percent of Hispanic women voted for Trump.
Here's the whole painful spiel Trump delivered last night:
Women! We love you! We love you. Hey, didn't we surprise them with women during the election? Remember? "Women won't like Donald Trump." I said, have I really had that kind of a problem? I don't think so. But, "Women won't like Donald Trump. It will be a rough night for Donald Trump because the women won't come out." We got 52 percent, right?
Not quite.