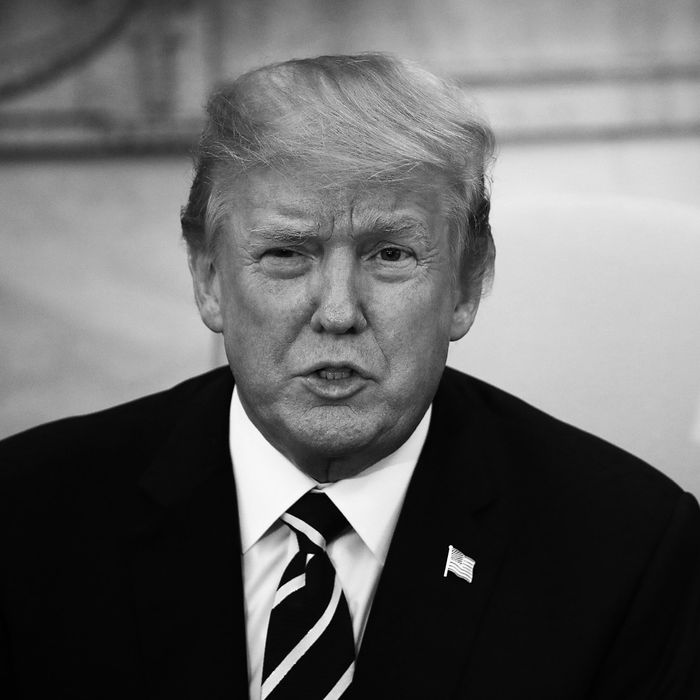 Donald Trump.
Photo: Win McNamee/Getty Images
When Donald Trump isn't busy fighting a never-ending battle against the wind, the occasional salad-eater can often be found cracking bad and offensive jokes. So, it should come as no surprise that Trump's Saturday night appearance at the Gridiron Club Dinner – a high-profile evening of roasts and jokes in D.C. attended by journalists and politicos (including his very close vice-president Mike Pence) – was replete with questionable (and awkward) humor.
Here, a selection of Trump's worst bits from the dinner.
About his wife possibly leaving him:
"So many people have been leaving the White House. It's actually been really exciting and invigorating 'cause you want new thought. So, I like turnover. I like chaos. It really is good. Now the question everyone keeps asking is, 'Who is going to be the next to leave? Steve Miller or Melania?' That is terrible honey, but you love me, right?"
On Deferred Action for Childhood Arrivals (DACA) recipients:
"We were talking about the Dreamers and quite honestly, democrats can fantasize all they want about winning in 2020 … those are the Dreamers."
About Rep. Maxine Water's calls for his impeachment:
"And I say — and I get in trouble for this — 'she has to immediately take an IQ test,' and people go crazy."
And his son-in-law attendee Jared Kushner's downgraded White House security clearance:
"Before I get started, I wanted to apologize for arriving a little bit late. You know, we're late tonight because Jared could not get through the security." 
On Mike Pence's impeachment worries:
"[Pence] starts out each morning asking everyone, 'Has he been impeached yet?' Mike, you can't be impeached when there's no crime, please remember that."
And about Pence's rule that he won't be alone with a woman who isn't his wife (or "mother"):
"The other day we were in line shaking hands with men and women, and a woman came over to shake his hand and he said, 'I'm sorry I can't do that, my wife is not here.' He's 25 years ahead of his time, folks."