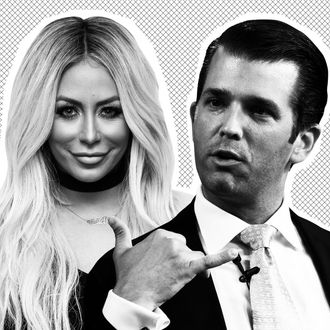 Aubrey O'Day and Donald Trump Jr.
Photo: Getty Images
It sounds like a fairy-tale: Boy meets girl on the set of his dad's reality show; they start having an affair; boy's wife confronts girl; maybe they took some pictures of their feet. But in reality, it's the sordid story of Donald Trump Jr.'s alleged months-long affair with former Danity Kane singer and Celebrity Apprentice contestant Aubrey O'Day.
We know you have questions about this drama — such as, uh … what? and how? also huh? and excuse me, please repeat yourself, I think I just died? — so here's everything we know so far about the unlikely (or extremely likely?) pair's reportedly ill-fated romance.
First of all: who are these people?
Donald Trump Jr. is the son of President Donald Trump. He's most notorious for having a difficult time sitting like a normal person. Aubrey O'Day, on the other hand, first popped up on our radars when she starred on Diddy's Making the Band 3 on MTV. It was on that program that she became a member of the girl group Danity Kane, which actually put out a few bops.
Ah, okay. But how did these two people meet?
Long before we all met our significant others on Tinder, O'Day and Don Jr. crossed paths the old-fashioned way: while taping Celebrity Apprentice in 2011. Don Jr. worked on the show for nepotism reasons, while O'Day was a contestant — as were magician Penn Jillette, mob daughter Victoria Gotti, American Idol runner-up and former Congressional candidate Clay Aiken, and many others.
So, did she win Celebrity Apprentice?
No! Comedian Arsenio Hall won. But it looks like O'Day won something else … Don Jr.'s heart. (Sorry.)
… All right. So now tell us about the affair.
Well, according to "Page Six," Don Jr. started pursuing O'Day on the set of Celebrity Apprentice, even though he had been married to his wife Vanessa since 2005 (and who was pregnant with his third child). "It was him who chased her," a source told the gossip column. "He told her that his marriage was already in the process of dissolving." Don Jr. eventually succeeded in his pursuit of O'Day, we guess, since the pair were reportedly involved romantically from late 2011 through March 2012.
How serious was it?
Pretty serious, it sounds like. An O'Day "insider" told Us Weekly: "When it started, he and Aubrey were very serious all of a sudden. He told her it was over with his wife, that they were separated and he didn't love her — all of that stuff." And the Daily Mail recently hypothesized that the feet in a pic that O'Day tweeted that March — of a man's feet over hers in bed, with the caption, "My babe is protecting my feet from bunion attacks! True Love Feet." — actually belong to Don Jr.! We are skeptical about the pic, but still, wow if true.
Yikes. And then what happened?
That's when the drama really begun. Vanessa reportedly got hold of a bunch of emails between Don Jr. and O'Day that alerted her to the affair, and she allegedly tried to shame the singer into ending things by confronting her on the phone — while her 5-year-old daughter with Don Jr. was also on the line. Intense!!! Apparently that didn't lead to any real resolutions, however, so now-president Donald Trump Sr. stepped in and urged his son to end the affair, according to Us Weekly.
So, did the affair just end quietly and harmoniously and everyone is friends now and they all laugh about it?
LOL, no. O'Day released some songs that were pretty clearly about Don Jr. after things ended. The first song on her 2013 album, Between Two Evils, is quite literally called "DJT" (his initials), and it's about a man who left her behind to return to his regular life (hmm).
In 2012, she also released a remix of Gotye's "Somebody That I Used to Know," and changed some of the lyrics to be about an affair with a married man. The lyrics include the lines: "You said that was the reason for your pain / But you were scared to ruin your family's name / Your wife's the only one glad we are over." Not at all obvious!
Drama! So what happens next?
Who knows! Vanessa recently filed for divorce from Don Jr., formally seeking to end their 12-year marriage (which produced five children). So maybe the formerly star-crossed lovers will find each other again? Or maybe Don Jr. will start up an online dating profile and not pay for drinks on his dates? Only time will tell …