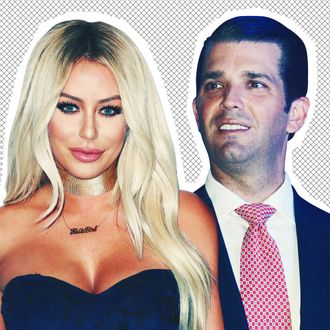 Aubrey O'Day and Donald Trump Jr.
Photo: Getty Images
Just when you thought Donald Trump Jr.'s alleged affair with Danity Kane singer and former Celebrity Apprentice contestant Aubrey O'Day couldn't get any more dramatic, Us Weekly is now reporting that the maybe-feet-cuddling couple had been "trying" for a baby while he was still married to Vanessa.
In an "exclusive" report published on Wednesday, a source tells Us Weekly that O'Day and Don Jr. considered starting a family together during their affair, which allegedly lasted from late 2011 to March 2012. "Don told Aubrey he wanted to have a baby with her," the "insider" told the tabloid. "They were trying for one."
Don Jr. reportedly pursued the affair with O'Day when his now-estranged wife, Vanessa, was pregnant with their third child. The soon-to-be-divorced couple also welcomed their fourth child in the fall of 2012 — just a few months after the affair ended (and after Vanessa found some sexts on Don Jr.'s phone while he was in the shower and allegedly confronted O'Day about the relationship).
According to Us Weekly, after they stopped seeing each other, the president's son — an adult man who recently weighed in on some #DisneyPrincess abortion drama on Twitter — kept calling O'Day. "He'd call Aubrey and leave long voicemails telling her he still loved her over and over," a source told Us Weekly. "He'd cry and say he was nervous his wife would take the kids away."
Hmm … this whole thing just sounds a lot like what happens in O'Day's aptly titled 2013 song "DJT" …