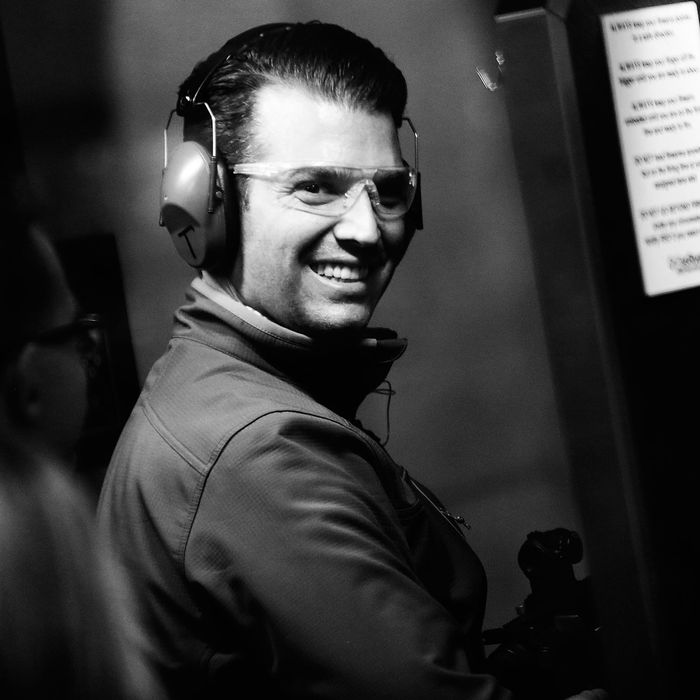 Donald Trump Jr., home on the range.
Photo: Luke Sharrett/Bloomberg via Getty Images
While Donald Trump Jr. might've sabotaged his marriage to Vanessa Trump via reckless tweeting and an alleged affair with Danity Kane singer Aubrey O'Day, the 40-year-old new bachelor has reportedly been in the throes of a new relationship: With a concealed-carry permit.
According to "Page Six," Trump Jr. was reportedly issued a concealed-carry permit in Lackawanna County, Pennsylvania, just days before his now-ex filed for divorce earlier this month. Why PA, especially since his new permit won't carry over to his home state? One source suggests, "But there is speculation that he didn't do it in New York because you have to supply financials." And you know how the Trumps feel about that.
Considering he and brother Eric frequent a hunting reserve in upstate New York that doubles as a "war zone"–esque shooting range, and given his predilection for hunting big game, what use could Trump Jr. have with the permit? One theory: Perhaps he sensed the tide of his marriage turning and is looking to boost his dating profiles. There's at least one person who'd swipe right on his waistband gun-slinging action.