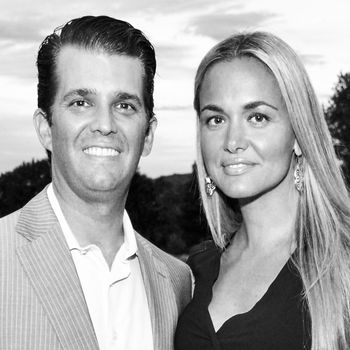 Don Jr. and Vanessa.
Photo: Grant Lamos IV/Getty Images
Vanessa Trump has filed for divorce from Donald Trump Jr. after 12 years of marriage. According to "Page Six," she filed for an uncontested proceeding, "meaning she's not expecting a legal battle over custody of the couple's five children or their assets."
Yesterday, "Page Six" reported that the couple have been living separate lives for some time, and that Vanessa has been struggling with the increased scrutiny of the family since Donald Trump's election, and worries for her children's safety. One source also suggested that Don Jr. has changed since his father's election, and that friends are concerned about his abrasive social-media presence.
"Don and Vanessa are focused on their family, they are trying to do this quietly and privately, and when they have something to say on the record, they will do so," one friend said. "This has nothing to do with politics, this is a personal matter between two people."
The couple have been married since 2005, after Don Jr. proposed to Vanessa in a New Jersey mall with a $100,000 ring he reportedly got for free in exchange for doing publicity for the company.
Updated March, 16 2018, 9:55 a.m.:
Hours after news broke of their divorce, the couple released a joint statement confirming the news, E! News reports:
After 12 years of marriage, we have decided to go our separate ways. We will always have tremendous respect for each other and our families. We have five beautiful children together and they remain our top priority. We ask for your privacy during this time.