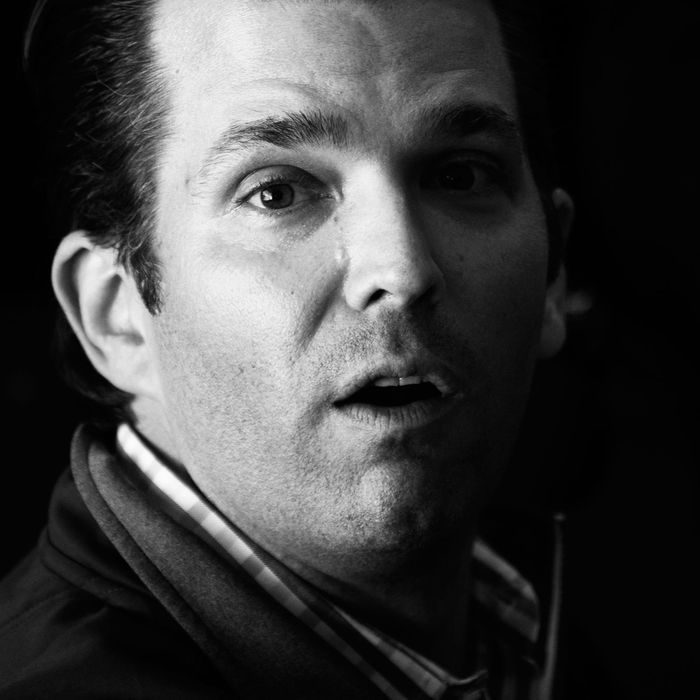 Donald Trump Jr.
Photo: Drew Angerer/Getty Images
First Boy Donald Trump Jr. may have been flirting with more than a life-size chocolate Easter bunny and the idea of becoming a rap critic before he and his wife filed for divorce. Amid revelations of the couple's confirmed split this week, a former model tweeted screenshots of racy, misspelled messages Trump Jr. sent her while he was married.
Friday afternoon, model Melissa Stetten posted a flirty Twitter DM from Trump Jr., dating back to November 2011 — just one month after his soon-to-be ex, Vanessa, gave birth to the couple's son Tristan.
"Surprised his marriage didn't work out since he was sending me DMs a month after his wife gave birth. (I tweeted a joke about pulling a muscle changing a tampon and he replied asking if I smelled bacon? Cool joke)," Stetten tweeted.
She also included screenshots of several Twitter mentions — as in, messages that the public can see — that Trump Jr. sent her from around the same time. Stetten didn't know Trump Jr. personally before he started messaging her, according to an interview with People, but it wasn't long before she became intertwined with him and his bacon fetish.
While Trump Jr. and Stetten's Twitter exchanges appear to have stopped the same month that they started, the Trump boy's bacon obsession prevailed for at least the next few years.
Adding "Looking for a woman who loves bacon" to the list of what lines we can expect to see on Jr.'s future dating profile.