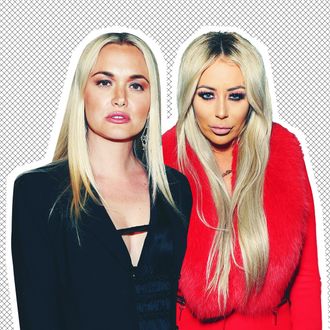 Vanessa Trump and Aubrey O'Day.
Photo: Getty Images
The drama surrounding Donald Trump Jr.'s split from his wife of 12 years, Vanessa, continues. Shortly after it was revealed that Don Jr. slid into a model's Twitter DMs with suggestive messages while married — and after "Page Six" accused the son of the richest U.S. president in history of being cheap — reports have emerged that he cheated on his wife with Danity Kane singer and former Celebrity Apprentice contestant Aubrey O'Day. Now, Us Weekly claims that Vanessa actually confronted O'Day about the alleged affair.
According to Us Weekly, Vanessa called O'Day in early 2012 after "finding a trove of emails" that seemed to prove the singer was having a months-long affair with Don Jr. A "source" told the gossip magazine that Vanessa hoped to shame O'Day into ending the affair through a "heart-wrenching" plea, with some help from her then 5-year-old daughter.
"She called Aubrey with her kids on the phone," the source said.
The affair apparently lasted from late 2011 to March 2012, starting when Don Jr. and O'Day appeared together on Celebrity Apprentice. An "O'Day insider" told Us Weekly, "When it started, he and Aubrey were very serious all of a sudden. He told her it was over with his wife, that they were separated and he didn't love her — all of that stuff."
Other sources also claim that Don Jr. did, in fact, want to leave Vanessa, with whom he already had five kids, for O'Day. However, it seems like Vanessa's confrontation wasn't the catalyst that prompted Don Jr. to end the affair. Instead, the Trump family — including now-president Donald Sr. — pressured him to end things with O'Day.