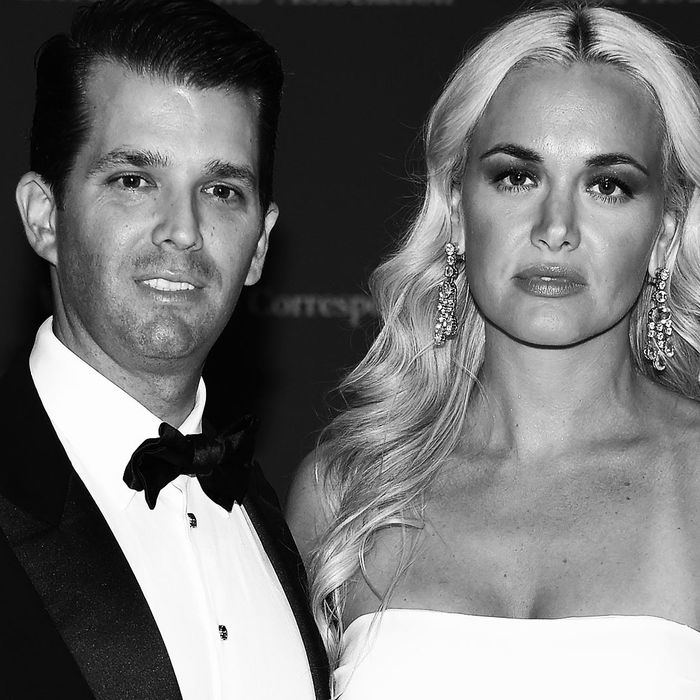 The way they were: Donald Jr. and Vanessa Trump.
Photo: Larry Busacca/Getty Images
Donald Trump Jr. and his wife Vanessa confirmed last week that they have filed for divorce. But what exactly led to the end of this fairy-tale romance? Well, there was the whole Don-Jr.-sliding-into-a-model's-DMs thing, of course. But now, "Page Six" is also floating another theory: It's because Don Jr. is cheap.
The gossip column claims that "multiple sources" have confirmed that Don Jr., the son of the richest president in U.S. history, is stingy. In fact, "Page Six" claims Don Jr. has "never been generous" with his money, and that Vanessa often turns to her parents for financial help. Per "Page Six":
"He treats her like a second-class citizen." One friend said, "He gives her very little help and has been keeping her on a tight budget. She doesn't live a lavish life and can very rarely pick up a check at dinner."
However, a spokesperson for Vanessa vehemently denies the reports of the talented sitter's alleged cheapness, telling the gossip column: "All of these claims are simply not true. Don and Vanessa have tremendous respect for each other and always have. The notion that she has had to rely on her family for assistance is absolutely false and utterly ridiculous." Sources also told "Page Six" the couple had problems even before they married in 2005 — and that Vanessa had started interviewing divorce attorneys prior to Don Jr.'s dad becoming president.
So, should we believe these rumors of Don. Jr.'s alleged cheapness? Who knows! But either way, if you somehow end up on a Tinder date with the guy, maybe bring enough cash to cover the entire bill — just in case.