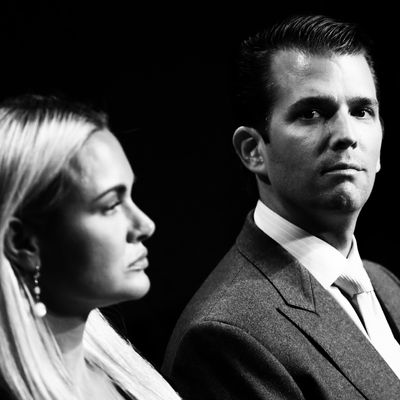 Vanessa Trump and Donald Trump Jr.
Photo: Win McNamee/Getty Images
This week, Vanessa Trump filed for divorce from rap aficionado and First Boy Donald Trump Jr. because she was reportedly tired of the intense media scrutiny on her family, and also maybe because of Don Jr.'s terrible tweets. Early reports indicated the divorce would be amicable — Vanessa reportedly filed for an uncontested proceeding, and the couple issued a benign statement together. But on Friday, "Page Six" reported that Vanessa had hired New York attorney David Feureisen to represent her, and his history as a criminal defense lawyer raised some eyebrows.
"It's a curious choice if it's an amicable separation," Manhattan family law expert Bonnie Rabin told "Page Six." "If it's an amicable situation you wouldn't be highlighting the criminal aspect."
As ThinkProgress founder Judd Legum pointed on Twitter however, Feureisen "does as much civil work as criminal work and regularly handles divorce cases in New York."
Also this week, the New York Times revealed that special counsel Robert Mueller has subpoenaed Russia-related documents from the Trump Organization, of which Donald Trump Jr. is an executive. So Vanessa's choice to hire Feureisen may not be a reflection of her relationship with Don Jr. as much as it is a way to prepare herself for possible questioning by Mueller.
Don Jr. does not yet have a lawyer listed in the case. Maybe he's been too busy coming up with new dating-app profiles.
This post has been updated to reflect Feureisen's history of working civil cases.