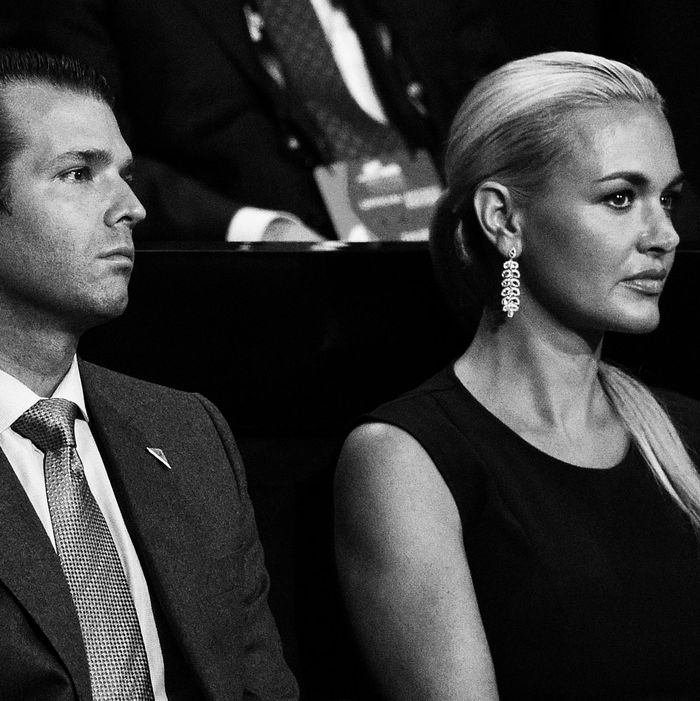 Donald Trump Jr. and Vanessa Trump.
Photo: Jeff Swensen/Getty Images
On Wednesday, "Page Six" reported that "friends" of Donald Trump Jr. and his wife, Vanessa, say the couple have been living separate lives and are considering divorce.
"The problems have been there for a long time, the couple had hoped to stay together during the president's time in office, but it is getting harder to resolve their issues. He's never there," one source said.
Vanessa Trump is reportedly uncomfortable with the intense media scrutiny of the Trump family since Donald Trump's election, and has concerns for her children's safety, particularly after an envelope of white powder was delivered to the family back in February.
One source also suggested Don Jr.'s combative public persona has played a role in the couple's separation, claiming that since his father's election, Don Jr. "appears to have changed recently, and friends are concerned about him." Another friend denies this, though, telling "Page Six," "Don has always had a bold and aggressive nature on social, there's no change to his stance on Twitter."
Whether Twitter contributed to the Trumps' marital strife or not, sources agree the couple have been struggling.
"While they are not legally separated, I cannot deny there are issues, there are a lot of intricate things that go on in a marriage," said one friend. "Don and Vanessa are focused on their family, they are trying to do this quietly and privately, and when they have something to say on the record, they will do so. This has nothing to do with politics, this is a personal matter between two people."
Donald Trump Jr. and Vanessa first met at a fashion show in 2003, where Donald Trump introduced his son to Vanessa multiple times. Vanessa told the New York Times when she and Don Jr. saw each other again weeks later, she said, wait, you're "the one with the retarded dad!" The couple married in 2005, after Don Jr. proposed to Vanessa in a New Jersey mall with a $100,000 ring that he reportedly got for free in exchange for making himself available for promotional opportunities. The only guests in attendance were paparazzi and TV camera crews.