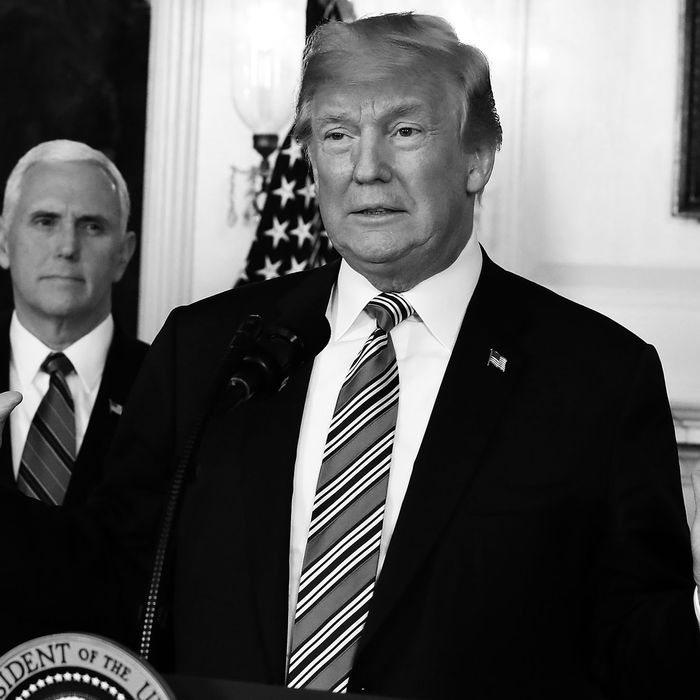 Donald Trump.
Photo: Mark Wilson/Getty Images
It's getting harder and harder for our impulsive, Twitter-loving president to keep quiet about his sex scandals.
According to the Wall Street Journal, Donald Trump has been asking his advisers whether or not he should publicly respond — specifically, on Twitter — to his alleged affairs with adult-film star Stormy Daniels and former Playboy model Karen McDougal.
While Trump has so far been able to ignore revelations about his alleged encounters with Daniels since the beginning of January, former Playboy model Karen McDougal claimed in mid-February that she too had an affair with Trump. Now with two ongoing sex scandals – not counting the numerous sexual assault allegations against him – Trump is spending more time wondering if he should fire off some tweets about the alleged affairs.
Per the Wall Street Journal:
To date, Mr. Trump has heeded advice on how to handle reports of his alleged affairs with women in the past, which he previously has denied. Privately, he has discussed with advisers whether he should publicly fight the allegations on Twitter or elsewhere.




His advisers have told him that there is no sign the allegations are hurting him with voters and have warned him that it would look inappropriate for the president to engage in a public spat with, among others, a former porn star. He has remained silent on the allegations, despite extensive coverage on the cable-news channels he watches closely, advisers said.
Unfortunately for Mr. President, the tenacious women aren't giving up the fight so easily. Just in the past month, both Daniels and McDougal have separately filed lawsuits to speak about their alleged affairs.
If Trump's advisers don't want the president to respond, hope they're prepared to do everything they can to prevent him from tuning in to Daniels's first full-length interview on CBS's 60 Minutes this weekend.